SYNOPSIS:

Disney's Original Movie is bigger and better than ever with awesome exclusive bonus features that will blow your mind. Think you have the moves to groove with the East High Wildcats? Let the stars show you what they've got in an interactive dance-along that lets you control the action, and relive your favorite parts of the movie with an incredible virtual scrapbook! It's the movie you love and so much more! High School Musical 2: Deluxe Dance Edition brings you inside the world of the Wildcats with "Bigger, Better, Best" bonus features including deleted scenes, a behind-the-scenes special and a first look at the highly anticipated big-screen bash High School Musical 3: Senior Year.

MOVIE REVIEW:

While this reviewer is counting down to the day when the third movie of the musical experience of a generation that is High School Musical (HSM) finally hits the big screen, along comes this DVD of the franchise's second movie - a reissued two disc version nonetheless! And if his memory hasn't failed him, he remembers reviewing the "High School Musical 2: Extended Edition" a while ago, so what's he to do with the "High School Musical 2: Extended Dance Edition" in his hands now?

Watch it again, of course!

And because he wants to provide a different review from the previous one (you can click on the older review to read it again if you are a real fan), he is inspired by his fellow columnist's style of including screen captures (we all want to make this a more interesting read, don't we?). So here we go – introducing the colorful cast of the world of HSM: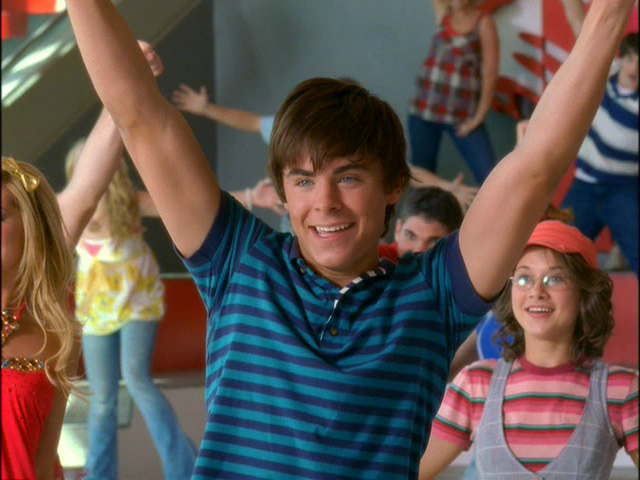 First up, we have the school heartthrob Troy Bolton, played by the increasingly popular Zac Efron. The boy is so pretty, we seriously can't find any fault with him. And he sings well (the star also played a heartthrob in the musical movie Hairspray) dishes some slick dance moves too. Here he is seen dancing to the TV movie's opening tune "What Time Is It?" Check out his very blue eyes. See. Them. Up. Close.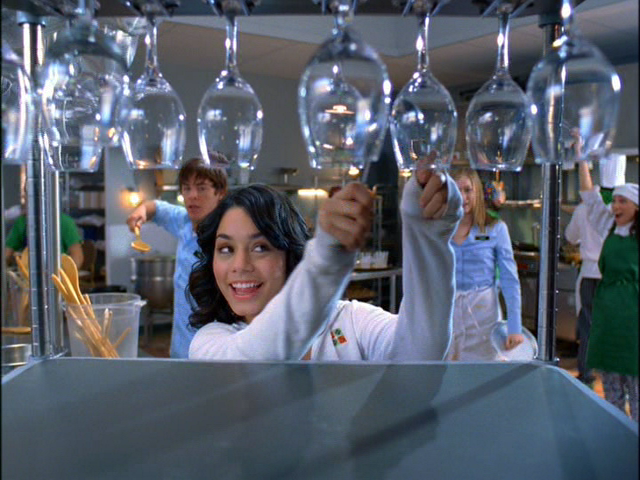 Up next we have Troy's high school sweetheart Gabriella Montez, played by the very sweet Vanessa Anne Hudgens. Her lusciously dark hair makes her a perfect Disney princess. Sure, she had a little boo boo with the pictures that leaked onto the Internet, but we've forgiven her, for what's a star without a rough patch? She's seen here doing a Stomp in the musical number "Work This Out", tinkling wine glasses and making merry music. She and real life boyfriend Efron are such a treat to the eyes, which makes their chemistry in the movie spot on.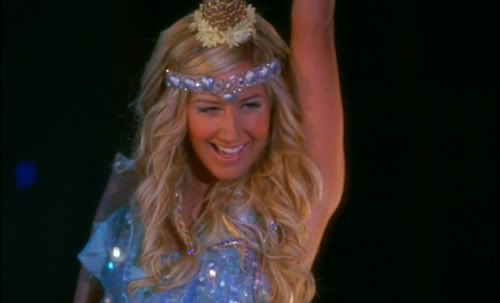 If saccharine sweetie pies aren't your thing, check out Sharpay Evans, played by the wonderful Ashely Tisdale. The New Jersey born actress plays the high school bitch, and she plays the role of the spoilt brat so well, it makes every scene with her in it a hoot to watch. We read somewhere about the Barbie doll lookalike having a nose job, but who cares - you'd be a rare Hollywood celebrity if you hadn't had one. Here we see Sharpay in a deleted scene, singing "HUMUHUMUNUKUNUKUAPUA'A". She thinks she is a mermaid, or a whale, or something.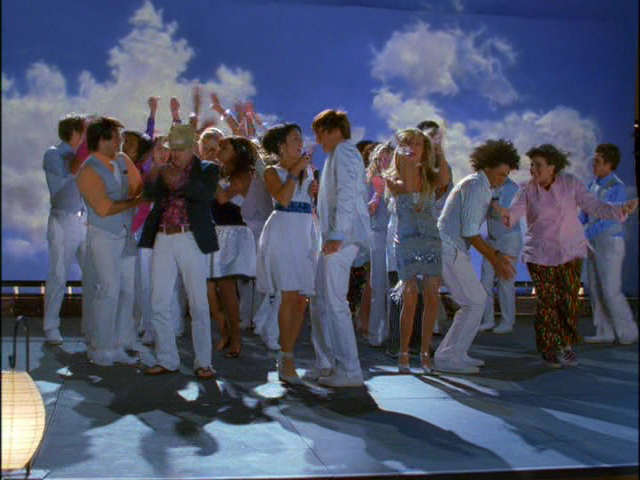 And in this group shot, we see the rest of the characters which make up HSM. There's Sharpay's brother Ryan Evans (Lucas Grabeel), the African American (nice racial representation here) couple Chad Danforth (Corbin Bleu) and Taylor McKessie (Monique Coleman), together with other happy young kids, singing to the obligatory feel good number "Everyday". This wholesome song definitely makes a good school concert performance item.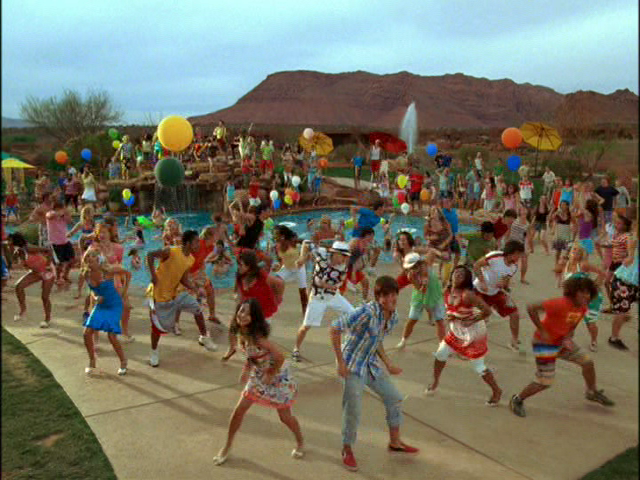 In the next group shot, we have the closing number "All For One", where all the characters come together to sing merrily and "have fun in the sun". It's one happy Disney ending, and everyone becomes friends with each other again. How great is that?

And for Disney Channel fans, here's a cameo from Hannah Montana (the increasingly popular Miley Cyrus) dancing amongst the HSM gang:




This 111 minute Disney Channel Original Movie's got everything a kid can ask for to have a good time. The success over the years has allowed it to be making its first leap to the big screen, and as the tagline tells you, the worldwide phenomenon is now a cinematic experience. And you can be sure the world can't wait for that to happen.
SPECIAL FEATURES :

As much as this reviewer is an obvious fan of HSM, he still has some integrity left in him to tell readers that this "High School Musical 2: Extended Dance Edition" is a money milking machine. The first disc in this version is exactly the same one as the previously released edition. You can now find someone to give that edition to (Christmas is a few months away…), while forking out some money to purchase this one.
Here are the extra features on the second disc of this edition:
Deleted Scenes – There are four scenes cut from the TV version totaling four minutes. Here, you get to see some bitching between Sharpay and Gabriella and some friendly setup between Ryan and Gabriella at the poolside. Hmm, Hudgens looks saccharinely sweet in that red swim suit of hers.
Music and More – In the Dance Along segment, the HSM gang will teach you some cool dance moves from "What Time Is It?" and "All For One". This interactive feature is so cool; it allows you to learn the steps in different modes, including one from the back view. This reviewer would like to try, but his crammed room doesn't allow him to do so. Also included in a Music Video "All For One" which inter cuts scenes from the movie and the recording session. Under More Music Videos, you see a slew of music videos from different countries including Canada, Brazil, Spain, Italy and Holland. There are, like, more then 15 of these music clips. The term "worldwide phenomenon" takes on a whole new meaning here. Check out these two clips if you don't have time to go through them all: "Stitch Meets HSM" from Japan (Experiment 626 and friends do a "We're All In This Together" from the first HSM movie) and "All For One" from India (this music video inspired from the song is a mega production, and proves that Bollywood means business when it comes to movie making)
Backstage Disney – In High School Confidential, there are 12 clips (ranging from two to four minutes) which show how much fun the stars had on set. Hear how the cast gush about having Zac "Troy Bolton" Efron around on location, how Vanessa "Gabriella Montez" Hudgens feels happy with everyone around, and how Miley "Hannah Montana" Cyrus had a great time with her Disney Channel friends shooting the last scene. There's even a clip about the cute dog in the movie. The Making of HUMUHUMUNUKUNUKUAPUA'A is a five minute featurette sees how Tisdale and Grabeel rehearse the ridiculous dance moves for the deleted scene. In the five minute Cast Favourites, we hear the young cast member's favourite actors, movies, songs, singers, and err, favourite type of pizza and dessert. Maybe they are expecting fans to like the same actors, movies and songs as these up and coming stars. On Location takes you behind the scenes of the movie, and this four minute clip tells you which rock is fake, and a Native American tells you about how sacred the land they shot the "Bet On It" sequence actually is. The four minute In The Kitchen brings you to the "Work This Out" location, which was incidentally the movie's first day of shoot.

Sneak Peek at High School Musical 3 – And this is it – the clip you'd be eagerly waiting for before paying to watch HSM 3: Senior Year on the big screen. In this three minute featurette, we get introduced to three new characters, some songs and scenes which will only tease you and make you anticipate the day you experience the worldwide phenomenon in the cinema.
AUDIO/VISUAL:
The disc's visual transfer is pristinely pretty, and there are Dolby Digital 5.1 English and Mandarin, 2.0 Hindi audio options available.
MOVIE RATING:






DVD RATING :




Review by John Li