SYNOPSIS:
From the creators of Cars and The Incredibles comes a breakthrough comedy with something for everyone. With delightful new characters, experience Paris from an all-new perspective.

In one of Paris' finest restaurants, Remy a determined young rat, dreams of becoming a renowned French chef. Torn between his family's wishes and his true calling, Remy and his pal Linguini set in motion a hilarious chain of events that turns the City of Lights upside down.

MOVIE REVIEW:

Our resident reviewer, John has given "Ratatouille" a 5 stars rating for his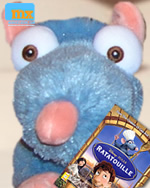 theatrical review earlier. Overstated? Nope. Overblown? Nope. In fact I find it very justifiable for this #8 full-length feature from the folks at Pixar.
A combination of rodents and the world of culinary seem bizarre on paper. A rat aspiring to be a chef? You must be kidding me. But all thanks to the magical hands of Brad Bird and his amazing crew, "Ratatouille" is equal to a plate of fine cuisine.
"Ratatouille" consists of all the finest ingredients and I'm not talking about the vegetable stew. Themes on friendship, kinship, love, inspiration and more, "Ratatouille" possessed almost anything to capture your attention. Obviously you need lots of passion for such a huge project.
Spearheaded by Brad Bird (who coincidentally took over while Pixar was undergoing major corporate shuffles and had just got off the promo tour of his well-loved "The Incredibles"), "Ratatouille" never loses its steam from the start of the familiar Pixar/Disney logos, Bird controls the pacing with such meticulous accuracy that you had your eyes fixed once we are introduced to Remy and his brother, Emile. Remy, yes the blue rat who aspires to be a chef and Emile the brown one who has an insatiable appetite on garbage (which rat don't?). The main rodent characters are easily distinguishable by colours and shapes so viewers won't be lost.

An avid follower of Bird's movies will know that every minute, every second in his movies has something to make you sit up straight. You cheer when Remy managed to escape the rifle-toting granny. You snicker when you see how Remy interact with "garbage boy" Linguini. And you shed a tear or two when the snobbish food critic Anton Ego first taste and agree with Remy's dish.
I can churn out paragraphs on how good the movie is because it is so GOOD (bold). Period.
For the first time ever since Mickey the Mouse, rodents simply look cutesy and cuddly that kids might want to own one. However, they might have difficulty comprehending the deeper meanings of the movie. Other than watching rat cooks, rats scuttling around and being chased, the stories and various motives of the humans such as the evil Skinner who is bent on getting rid of Linguini and Remy, the sinister-looking Anton whose room is in the shape of a coffin and of course the romance between Colette and Linguini might be a bit too much for the impatient younger ones.
But adults will definitely be captivated by the magnificent CG rendered Paris skyline and backdrop and the faultless humans, rodents' animation. Everything seems so surreal, we are just awestruck liked Remy when he first arrived in Paris. In addition, the food's rendering is also a blast. The soup and bread is so authentic, you feel like biting into it. Pixar has once again proven they are the leader in field of CG animation. The azure realistic ocean in "Finding Nemo", the automobile world of "Cars" and right now, they have once again nailed it.
"Ratatouille" is a story with lots of heart with ultra-photo realistic CG rendering, simply put, it deserved to win the Best Animation Oscar next year.
SPECIAL FEATURES :

Included here is the animated short "Lifted" by award-winning sound expert Gary Rydstrom. Stripping bare of any dialogue, the hilarious short is about an alien trying to pass his "driving" test, no prizes for those who manage to guess who is the sound designer.
"Your Friend The Rat" is a cute feature which has Remy and Emile telling the history of rodents in the form of crayons drawings and funny sketches. Now remember its all the fleas that caused the plague and not the rats.
The thirteen minutes feature "Fine Food and Film" is a light comparison between director Brad Bird and renowned chef, Thomas Keller. Touches on how their careers begin and how passionate they are about their daily work.
Rounding up the disc are a few Easter Eggs (Clue: Pay attention to the cooking pots on the main menu) and upcoming DVD and movie trailers.
AUDIO/VISUAL:
The DVD transfer is as pristine and clear as it is on the big screen. Colours are bright and vivid. Like I say in my review, everything is a marvel to look at. So many fine details hidden in every corner. You won't however miss them even if you were to scrutinize every pixel.
Dialogue is of the highest clarity except for the rifle-toting granny sequence which make full use of the bass and surround, this is basically an animation with plentiful dialogue and feature an amazing score by Michael Giachinno. Even the hissings cooking sound effects can be clearly heard.


PARTING THOUGHTS:

It's a pity the deleted scenes feature is not included in this Code 3 DVD. We know Pixar has plenty of features inside their vault waiting to be unleashed, blame the Disney execs for pulling the plug. A predictable 2-disc special edition or a blu-ray edition should be on the way in the years to come. For the time being, this edition is a recommended appetizer to please audiences of all ages. If your budget only allows one animation a year, get this!
MOVIE RATING:







DVD RATING :


Review by Linus Tee