SYNOPSIS:
Ambitious Sun Na (Zhou Xun) who was born into a poor family became a successful actress through unscrupulous means. A decade later, two men appeared in her life - an old flame, Jian Dong (Takeshi Kaneshiro) who's now a movie star and a renowned director, Nie Wen (Jacky Cheung) who's her current boyfriend. As the reel and real life entangle, the three gets entrenched in a love triangle...
MOVIE REVIEW :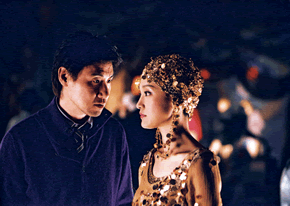 It has been decades since we last saw a Chinese musical. Not since the early fifties and sixties as far as I can remember. I can still vaguely recall those dancing, romance Shaw classics showing on television when I was a little kid.
Coming from the hands of renowned director Peter Chan after his hiatus of nine years, "Perhaps Love" is sort of a revival to that wonderful era. Netting an international cast that includes Jacky Cheung, Japanese heart-throb Takeshi Kaneshiro, upcoming star Zhou Xun from China and Korean Ji Jin-Hee. Not to forget, an ensemble of acclaimed crew that comprises award-winning cinematographers Peter Pau and Christopher Doyle, acclaimed dance choreographer Farah Khan from Bollywood.
Yes, you might feel slightly out-of-place or uncomfortable in the opening sequence when the actor suddenly breaks into a song and dance routine. It's loud. It's exhilarating. It's bursting with energy. But this is just a warm-up to what's going to follow next. The real gem in fact is to uncover the turbulent relationship between Cheung, Zhou and Takeshi spreading across a time span of 10 years.
The story is unique in a way as it cuts to and fro, bringing the audience from one dimension to another, apparently the screenwriters feel it's more justifiable to showcase the actors in a movie-within-a-movie to bring out the intensity of the burning love-hate desires of the three. If there's one actor that deserves to be mentioned, it's Jacky Cheung. Cheung's singing skill is emotionally powerful enough to convey tinge of sadness across several solo song segments, making him the most outstanding cast above all. To be fair, Takeshi who has matured as an actor over the years gave a heart-wrenching performance as the devoted lover, Jian Dong.
Strip away the musical routines and song segments, "Perhaps Love" is essentially an emotionally driven movie about unrequited love. However, with the magical touch director Peter Chan and his team of screenwriters and songwriters had, this run-out-of-mill tale have been transformed into something so refreshing and mesmerising that makes it one of the must-watch Chinese movies of 2005.
SPECIAL FEATURES :

There's a 15 minutes making of special that is perhaps aimed at the American or European market with it's slick English narration. Covering the dance choreography, music composition and interviews with the cast and crew. It's a nice and short introduction to the world of "Perhaps Love" before you embarked on the journey.
AUDIO:
The DVD comes with Chinese 5.1 Dolby Digital. The surround sound makes it a joy to submerge yourself in the rowdy, musical segments. And it's always a plus to listen to the original recording of the actors' voice save for Jacky Cheung. Cheung who has quite a good command of the Chinese language is surprisngly being dubbed here. Fortunately, not inclusive of the song segments. Relieve!
VISUAL: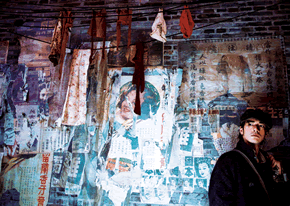 Shot on pretty heavy tones and dark shades for most parts, "Perhaps Love" is a good example of showcasing contrasting colours. You can have an array of colourful tones in one scene and a pure white snowy background in the next. It's a visual treat unlike others.
MOVIE RATING:




DVD RATING :


Review by Linus Tee