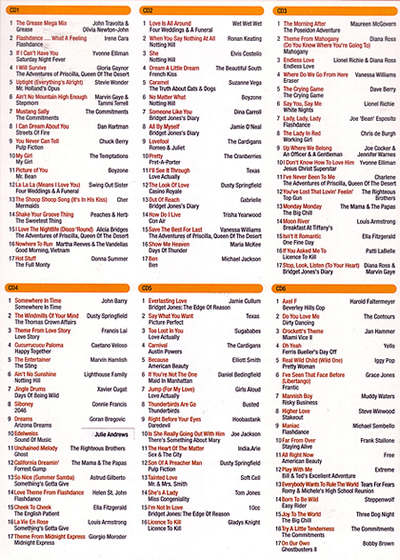 SOUNDTRACK REVIEW:

Singaporeans will dig this. Six CDs for the price of one? You've got to be kidding. What's more, six CDs of movie songs? Where else are you going to get a deal like this? This is definitely a must own for movie lovers, lah.
We wanted to tell you how many hours of listening pleasure you would get if you played the six discs one after another, but we lost count. From how John Travolta and Olivia Newton John belted the first song "The Grease Mega Mix" in CD 1, we knew we were going to love this compilation. There are familiar tunes like "Flashdance… What A Feeling" and "My Girl" to other less popular (it's all subjective, really) ones like "Uptight (Everything's Right)" and "Shake Your Groove Thing". It's nice to have some pleasant surprises amidst the recognizable songs you could easily identify.
Oh, and we have only listed some songs on CD 1.
The varied selection includes songs from classic movies like The Poseidon Adventure (1972), White Nights (1985) and contemporary ones like Love Actually (2003) and Daredevil (2003). You name the genre, they have the genre. Action adventure, romantic comedy, comic superhero adaptation – all represented by a song from the movie. It's nice to revisit some of these movies to spot the songs, after you have heard them from this compilation. Asian movies like Happy Together (1997), 2046 (2004) and Days of Being Wild (1990) gets the spotlight in CD 4 with an exotic collection of foreign language tunes.
The 101 songs from these 6 CDs are bound to please those who are looking for deals which scream 'value for money'. Where else can you get a compilation like that without, err, infringing copyright laws? You also get a quaint lyrics booklet so you can sing along. Sure, the booklet could have worked with a little more decoration and exquisiteness to entice buyers, but really, what more do you want by paying less than 25 dollars for a readily compiled collection like this?
There are Oscar/ Golden Globe/ Grammy award winning tunes in this compilation, and you don't know what you are missing out If you walk past the display shelves, dismissing this collection as another 'convenient compilation'.
ALBUM RATING:






Recommended Track: CD 4 - (4) Cucurrucucu Paloma
Review by John Li

Posted on 16 November 2009