SYNOPSIS:
London, 1937. Mrs Laura Henderson, a woman of wealth and connections, has just buried her beloved husband. And now she's bored. At 69, she is far too energetic and vital to fade into gentle widowhood. To the shock of her friends she decide to buy a theatre - the Windmill theatre in the heart of Soho. She knows nothing about running it, so she hires a manager: enter Vivian Van Damm. His idea for Revudeville, or non-stop entertainment, is a first, and the Windmill is packed - until other theatres copy it. Then it's Laura's turn to devise another first - having naked girls on stage!
DISC ONE: MOVIE REVIEW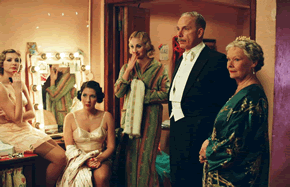 If you assumed "Mrs Henderson Presents" is one of those arty-farty, literature-inspired films that are way beyond your comprehension, then you are way wrong. Never mind that BBC Films is one of its financers, this is one light-heartened affair that will warms and entertain you at the same time.
Based on true events, "Mrs Henderson Presents" is about a restless widow, Laura Henderson who bought over an abandoned theatre and turned it into something so innovative and refreshing with the help of her manager cum rival, Mr Vivian Van Damm played respectively by Judi Dench ("Tomorrow Never Dies") and Bob Hoskins ("Unleashed").
To say this is a Judi Dench's vehicle is an understatement, Dench is remarkably likeable as the witty and sometimes naughty Mrs Henderson. And Bob Hoskins (who is also the executive producer here) shares immerse chemistry with Dench whenever the two banter and appeared on screen. Watch out for the young leads, Will Young and Kelly Reilly who put in impressive performances as well.
There isn't much narrative that will bore you in fact it's pretty engaging at times. Pay attention to the rib-tickling conversation between Mrs Henderson and the Lord Chamber in the tent scene. While the story is pretty much straightforward, consider that nudity is a taboo subject in the conservative English society in the 30's, the Windmill theatre is thus one of it's kind to break the barrier.
Undeniably, there will be a certain crowd that will clamour after the nudity bits (frankly there's a generous dose) although it's done in the form of art (so as to make use of the loopholes in the law).
Despite the lack of glamourous set designs and glitz of prolific musical-movie productions such as "Chicago", "Mrs Henderson Presents" shines instead with its lovable bunch of cast and a simple storyline that tells the hardships of many people who has in one way or another contribute to the success of Windmill Theatre for over 30 years.
DISC TWO: SPECIAL FEATURES

Director's commentary- A rather quiet commentary by director Stephen Frears with long pauses in between. If you are looking for insights or juicy bits about the nude scenes, i'm afraid there isn't. Maybe Mr Frears is a bit shy in front of the microphone.
Making of Featurette- An approximately 20 minutes featurette that covers the cast & crew interviews, casting and design etc. But far more interesting is the interviews with the original Windmill girls from the 30's and 40's. Not really an in-depth look at the history of the Windmill Theatre but nevertheless, worth a peek.
To round off, there's the trailer attached.
AUDIO/VISUAL: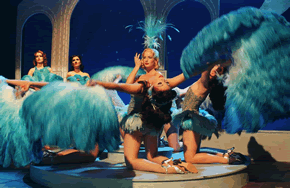 The movie is presented in Dolby Digital 2.0 only which is quite a pity. A 5.1 surround transfer would have bring out the wonderous song and dance pieces. There's a slight aged look on the transfer, maybe it's just an added effect on the original film stock to make it more realistic and authentic to that era.
MOVIE RATING:




OVERALL DVD RATING :


Review by Linus Tee