SYNOPSIS:
"The Descent" follows an all-female cast who play extreme sports enthusiats going on their annual vacation trip. During this daredevil caving holiday, the six girls are trapped underground when an unexpected rock-fall blocks their exit. Searching the maze of tunnels for a way out, they find themselves hunted by a race of fearless, hungry predators, once humanoid but now monstrously adapted to live in the dark.
MOVIE REVIEW: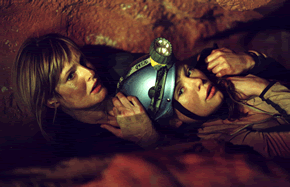 Do not watch this movie if you are claustrophobic or lygophobia (Fear of darkness).
Now we have the fundamentals covered, we are ready to descend.
From his celebrated horror cult hit 'Dog Soldiers' (2002), Neil Marshall returns with yet another spine-chilling gory thriller that went beyond places on Earth. Marshall submitted 'The Descent' decently with the likes of most horror thrillers did – the coming of a band of chums, with a pendant for breakneck adventures. Often, the hardy exploits of the on -screen personas prevailing through the wildest edge of adrenaline-rushed endeavors rendered us; the film lovers with our idle bums, green with envy. But as their quest turned for the worst, with the then basking heroes, now stalked with fear and tears, ran for their insignificant lives. Our destiny is starting to make sense. Fat butts + Movies = Longevity. Watching heroes fall from grace, innocents mutilated and devoured; there has never been a better leisure than that. Twisted sadists!
With the introduction of six adrenaline junkies, with a variety of characters: an alpha male type leader, a scholastic medical student, a troubled survivor and a youthful spunk among the pack. It is easy to dismiss them akin to typical Hollywood stereotypes featuring mainly white Caucasian males with a spot of blacks or Asians obscurely available, willing to give up their lives when necessary. And don't forget to throw in the ever-dense damsel for the naughty bits.
Neil Marshall scripted defiantly against the norm and ingeniously cast all the six of the characters with women. Pressuring the pretty actresses in an underworld of hostile environment, fighting demons and fighting their stereotypes. Unlike dramas like Mona Lisa Smile (2003), Divine Secrets of the Ya-Ya Sisterhood (2002) or even Sex in the City, it is a rarity to cast all the leads in an action/horror/gore movie like 'The Descent' with ladies and without any male supporting roles. Therefore it is vital to cast the right actresses as to render their presence formidably. 'The Descent' has been competent with that issue.
'The Descent' was referring to the caving trip in which six buddies reunited after a tragedy to rekindle their waning friendship. Alpha male type leader of the pack, Juno (Natalie Mendoza) brought her gang to an undiscovered cave, counting their death. When the entry collapsed, and their gothic spunk's leg broken, the six adventurers started to lose it in the claustrophobic darkness. Losing their way, losing their important equipment and losing their very sanity as they realized they had become preys to savage humanoids with a taste for flesh.
The next seventy minutes of the show, the audiences were treated to a gory feast of heart thumping castigation in 'Dog Soldiers' style. Witnessing their friends being devoured live when scrambling in the rocky confinements and ebony morbidity, Juno and Sarah (Shauna Macdonald) upon their hell bound hours, morphed into ice axe wielding, teeth baring and blood soaked exorcists not unlike something from Stephen King's 'Carrie'. Marshall's darker twist of the plot soon revealed that the worst enemies are often each other.
'The Descent' was conceptually novel with captivating horror factors and it's ending satisfactory. Marshall continues to enjoy blurring the lines between Man and His morality, giving depth to the horror genre. In weeks to come, I might just remember 'The Descent' as a film about some ladies trying to fend for themselves in a God-forsaken Hell. But I will never be able to forget this horror flick.
SPECIAL FEATURES :

Plenty! There are featurettes and in-depth interviews with key cast and crew. The DVD is completed with the making of the movie and it's trailers.
AUDIO/VISUAL:
'The Descent' is so dark that I suspect otherwise if watched in theaters. To add more fear factor, try switching off the lights upon viewing the movie. Subtitles includes English and Chinese. The audio can dive sporadically and can be somewhat disruptive.
MOVIE RATING:





OVERALL DVD RATING :



Review by Ang Wei Kiat