SYNOPSIS:
Georges, who hosts a TV literary review, receives packages containing videos of himself with his family - shot secretly from the street - and alarming drawings whose meaning is obscure. He has no idea who may be sending them. Gradually, the footage on the tapes becomes more personal, suggesting that the sender has known Georges for some time. Georges feels a sense of menace hanging over him and his family but, as no direct threat has been made, the police refuse to help...
MOVIE REVIEW: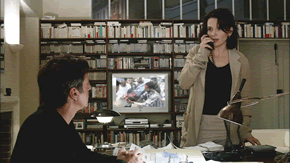 When the first frame of a film lingers on for almost 3 minutes on screen, you know you are in for something different.
In this award-winning French thriller, the protagonist is a TV literary reviewer named Georges who starts to receive mysterious videos about himself, his family and weird drawings as well. The couple is left to fend on their own as the cops find it totally harmless thus not a concern for a follow-up investigation. "Hidden" has touches of a good old Hitchcock's thriller and as the story progress, more characters are revealed and yes, Georges has a "hidden" secret too, to spice things up a little. Not even his dear wife knew about this. While the pacing is not entirely rapid, the plot will keep you guessing who's the nincompoop behind this bizarre event. Even a scene showing the couple having dinner with a group of friends look suspicious. So who's the culprit who is keeping track of Georges and family's whereabouts?
If you leave it to Hollywood to finish the script, tonnes of blood will be spilled, a psychotic killer will emerge and Georges will save the day. Hand this over to the Koreans, they might just throw in a North Korean defector seeking revenge. The Chinese? A cop might turn out to be the culprit instead. So how's the French going to do it?
One side of the camp which comprises the Cannes crowd and the European Film' judges will applaud this effort. The other side which consist of the normal filmgoers will gasp at it's closing. Director and writer Michael Haneke have deliberately left a big surprise for the audience, his very own conspiracy theory perhaps.
Although Daniel Auteuil (from the superb cop drama "36") and Juliette Binoche puts in captivating performances as the couple in jeopardy, I'm afraid the crowd will label this as a "headless" chicken on the run. Watch "Hidden' and you know what I mean. I leave the final verdict to you.
SPECIAL FEATURES :

NIL
AUDIO/VISUAL: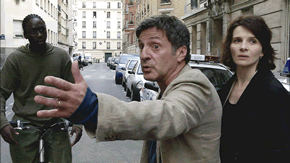 The film is presented in both Dolby Digital 2.0 and Dolby Digital 5.0. Stripped bared from any accompanied music score, the film relied heavily on dialogues and the occasional sounds from the streets. If you ask me, the former is substantial to carry the load. Shot in dark shades and brown tones, the colours are brooding enough to convey the sombre mood. Overall, the disc transfer is recommendable.
MOVIE RATING:



OVERALL DVD RATING :

Review by Linus Tee