SYNOPSIS:

BINGO (Miriam Yeung) is like any other regular working women. She leads a carefree city life that includes guarding her turf in the office, dating and gossiping with her three girlfriends. However, her life soon turns upside down when she was diagnosed with breast cancer and she tries to cope with the fear of losing her femininity. With the help of a happy-go-lucky doctor V (Richie Jen), Bingo begins to find new meanings in her turmoil and the will to face her own demons.

MOVIE REVIEW :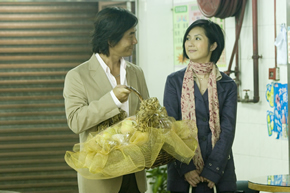 I'm sure many of us have watched before on national TV, dramas endorsing and depicting the seriousness, consequences of what different types of illness can bring us. From kidney failure to diabetics, most Singaporeans have watched them all.
However, aside from the usual Breast Cancer awareness advert, there's nothing on this subject matter yet from our homegrown station. So here comes a Hong Kong movie that touches on the delicate issue of breast cancer that comes in handy.
Miriam Yeung plays Bingo, a high-flyer young career women you would normally see around us. Decking in the latest fashion, indulging in spa treatments and busk in the company of friends, Bingo works hard and plays hard. That is until she discovered she had a malignant tumour through a pretty amusing sort of way. Based on an idea by Producer Johnny To (the acclaimed director of "Election" and "Love on a Diet"), Director Law Wing Cheong has intentionally approached the subject with great sensitiveness and shy away from the usual mushy scenes usually found in dramas. There's no huge nuggets of wisdom dispensed instead what you get is a fairly light drama.
The fresh pair-up of Taiwanese actor/singer Richie Jen and Miriam Yeung gives audience a comfortable and refreshing feel. Never mind that Jen and Yeung are not on the elite ranks of superstardom but their natural performances are really endearing especially Yeung who gave a really outstanding performance.
Embrace this movie with a positive attitude as per what the tagline says. I'm sure you are going to have an enjoyable 90 minutes with your love one or friends. You might not possess a wide knowledge of Breast Cancer after the show but at least you know you must face things with the best attitude when you are down with a potential terminal illness someday. Touch wood!
SPECIAL FEATURES :

There's the usual 10 minutes making of segment which briefly contains interviews with the director and cast. With the trailer attached as well.
AUDIO/VISUAL: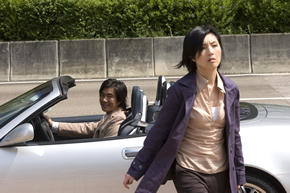 The sound mix is in Dolby Digital 5.1 which for a dialogue-laden movie like "2 become 1" doesn't really make good use of it. However, an added advantage is the inclusion of the Cantonese language option. Surprisingly, Richie Jen's command of Cantonese is above average for a non-Hongkonger. The visual transfer is clear and colours are vivid throughout.
MOVIE RATING:



DVD RATING :

Review by Linus Tee