SYNOPSIS:
Tang Monk, Tripitaka (Nicholas Tse) arrives in Sache with his three disciples (Chen Po Lin, Kenny Kwan and Steven Cheung) to embark on an ardous journey to retrieve the sacred sutras from the West. When his disciples are captured by the Tree Spirit, Tang Monk seeks help to save them. However, he meets a lizard imp Meiyan (Charlene Choi) and unwittingly falls into her love trap and commits a Heavenly Sin by falling in love...
MOVIE REVIEW :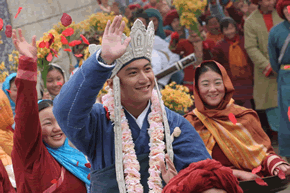 When the tagline says "When Star Wars meets Journey to the West", the producers are not joking. It's a East West fusion no doubt.
And seriously, before you embark on this trip, you need to first dispense your belief followed by casting away whatever thoughts about the original "Journey to the West" epic tale of Tripitaka and his four disciples harrowing journey to seek the sutras. Yes, "A Chinese Tall Story" still retains the basic structure of the classic tale. That is the familiar characters liked Monkey God, Pigsy and the sea turtle etc. However, Director and Screenwriter Jeff Lau has opt for a love story angle instead, breathing new life to the otherwise pretty much familiar story which everyone is so acquitted with.
Well, that's not all. Be prepared to see a totally new world inhibited by strange creatures that are more Aliens-looking than the usual ghost spirits or ox demon. Even the costumes are a marvel to look at. If this is not enough to stifle your imagination, Lau goes to the extent of introducing spaceship battles a la Star Wars!
It's a tricky situation when it comes to rating "A Chinese Tall Story". Although the love theme in the story is universally understandable and appreciates by audience, I'm afraid the cheesy CG effects which took up a huge chunk of the screen time might not. HK movies still has a lot of catching up to do in terms of computer technology comparing to their counterparts in the West. Pardon the obvious pun. Isn't it more feasible to concentrate on the sets designs (which in my opinion are as good as "The Lord of the Rings"), story-plotting and fight choreography rather than spending millions on effects that are lamer than the usual games displayed on an X-Box or playstation?
Director Jeff Lau who charmed the audience with the Stephen Chow's vehicles, "A Chinese Odyssey I & II" almost a decade ago seems to lose his usual wittiness and humour (his usual trademark in movies such as "All for the winner" and "Haunted Cop Shop") with "A Chinese Tall Story". On a positive side, you should admire the man who updated a much-loved Chinese classic into something so align with the present generation.
Perhaps I'm old school, I wouldn't recommend this to someone beyond the age of 25. But if you are accustomed to spending hours on online gaming, perhaps "A Chinese Tall Story" might suit your taste buds.
SPECIAL FEATURES :

A brief 15 minutes making of special is included. The usual cast and crew interviews are in it. Although CG forms much of the whole movie, it's not discussed in details. Pity! Maybe the effects crew are too afraid to face the cameras. And that sums up this short feature.
AUDIO:
The DVD comes with Chinese and Cantonese 5.1 Dolby Digital. That's a good thing with this dvd. If you wish to experience the cast original voice dubbing, just switch to the Cantonese version. Oh and the surround sound is pretty much in place during the battle sequences. Not bad for a HK movie.
VISUAL: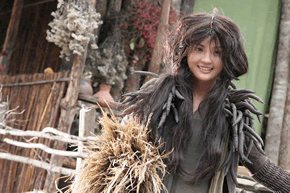 The images are sharp and colourful. Maybe the lush sceneries in Mainland China plays a part in it. One of the recent movies from HK that scored high marks in the visual and audio department.
MOVIE RATING:



DVD RATING :



Review by Linus Tee