Tackling the subject of drugs on the big screen is never an easy task especially the subject on hand is an apparent taboo conversational topic.

But director Derek Yee did just that in his latest self-penned project, "Protege". In town for the press junket were executive producers Andre Morgan, Daniel Yun from Raintree Pictures and the female audience's favourite male leads, Daniel Wu and Louis Koo.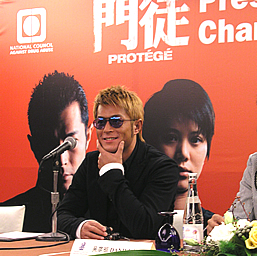 Koo who just flew in last month for "Happy Birthday" was in his usual cheeky, laidback self. The toughest thing for him in Protege was ironically not his role in playing a hardcore drug addict but the tiring task of juggling not 2 but 3 movies at one go.

It was surprising to learn that it was Koo who proposed to Derek Yee for a set of false yellow-stained buckteeth for added realism. He was more than just enthusiastic to hop onto the character of a drug addict. Seem like the well-known handsome prince of Hong Kong cinema and television is looking forward for a breakthrough performance and also a major desire to shed his wholesome onscreen image.
Daniel in the meantime seem to have it easy. When questioned about his steamy scene with co-star Zhang Jingchu, the word "awkwardness" seem non-exist as he explained that he already has ample discussion between the director and Zhang beforehand. One take is all it required to finish the shot. (Unfortunately, the Singapore version was shortened to achieve a friendlier rating, let's hope the dvd will contain the full sequence.)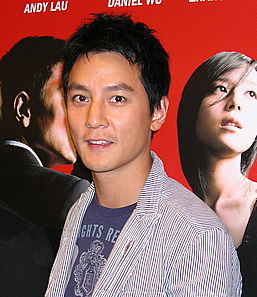 Even for his stunt sequence in the movie which requires him to jump to a dangling air-con duct on the eight floor, the ever cheery American born actor brushed it off as though it was a daily routine. Well to him, the humid summer weather during filming is perhaps more torturing to him than the high floors.
While both actors have no qualms in saying NO to drugs, both men in fact look forward to play an addict on screen. Daniel was initially interested in Koo's role but Derek wanted him for the undercover cop role instead. When pressed for a comparison to Tony Leung's now renowned undercover role in "Infernal Affairs", Daniel further elaborate that his character Rick touches more on the mentor/protege relationship with druglord, Lin Kun (played by Andy Lau) and also the movie portrayed Rick's own internal struggle with life's emptiness and drugs. A far difference from the latter. In the meantime, Louis jokingly said he would rather play the role of his screen daughter if given a chance. Child actor it seem has the privilege to throw tantrums on set.

And so is drugs a celebrity's problem given the recent hype in drugs scandal in the Taiwanese celebrity circuit? Daniel attributes this to a social problem rather than a celebrity trend as research has shown drug abuser happened to one in every 30 people in the world.

With that, moviexclusive.com shall leave "protege" in your own hands. Mark this down as one of your choices in the coming Lunar New Year.
Protege opens islandwide 15 February 2007 and is reviewed here!