One year has passed since MX last interviewed Dante Lam during his promotional tour for the long-delayed Sniper (2009)- and we dare say that it has been a superb year for the renowned action film director. His Beast Stalker (2008) won Nick Cheung best actor honours at both the Hong Kong Film Awards (HKFA) and the Golden Horse Awards and Liu Kai-Chi the best supporting actor honour at the HKFA.


Come April 1st, his new gritty action film Fire of Conscience starring Leon Lai and Ritchie Jen that has been gathering tremendous positive buzz will be released throughout Asia. Besides that, he also has another two movies due out this year- Stool Pigeon, the sequel to Beast Stalker that reunites the original cast; and Wanted Criminal, also starring Nick Cheung with other heavyweights Lau Ching Wan, Francis Ng and Anthony Wong.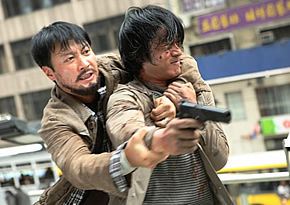 Indeed, Dante has come a long way since his directorial debut in the B-grade actioner Option Zero in 1997. Widely regarded as a third-parter to director Gordon Chan's earlier First Option and Final Option, Option Zero saw the then-popular Michael Wong reprise his role as an SDU (aka Hong Kong's Special Forces) captain- with Gordon Chan on board as producer no less.

The partnership between Dante Lam and Gordon Chan actually began almost ten years back with the 1989 comedy The Yuppie Fantasia with Gordon as director and Dante as assistant producer. They continued to forge their collaborations- Gordon as director and Dante as assistant director- with a string of hits such as Inspector Pink Dragon (1991), Fight Back to School (1991), Thunderbolt (1995) and Armageddon (1997).


Gordon Chan describes their relationship as "a kind of brotherhood thing". "There was never a sifu (master-student) relationship between us," Gordon Chan once said in an interview. "I never look at him as a student. He supported me all along when I went through all these gambles. He was with me all along." And that gamble paid off big time with their critically acclaimed cop drama, Beast Cops (1998), starring Michael Wong and Anthony Wong.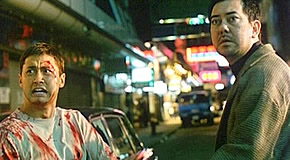 For the first time in his career, Dante was credited as co-director with Gordon and both of them eventually shared the Best Director award at the HKFA, with Beast Cops sweeping almost every major category including Best Picture, Best Actor (Anthony Wong), Best Supporting Actor (Patrick Tam) and Best Screenplay (Gordon and Chan Hing-Kar). It was a resounding success and all the more surprising when Dante followed that with the 1999 Leo Ku-Shu Qi comedy When I Look Upon the Stars.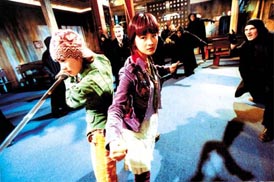 "That was one film I forced him to do," revealed Gordon Chan, who served as producer on the movie. "Do a comedy. Do a romance, I said. I don't know what you are going to do, but no more firearms!" Taking heed from Gordon's advice, Dante combined comedy and action into the quirky triad comedy Jiang Hu: The Triad Zone (2000) which was subsequently nominated for Best Picture that year at the HKFA.

But his all-out love for firepower took over quickly as Dante Lam wrote, produced and directed two well-received action films the following year- Runaway (2001) starring Nick Cheung and Anthony Wong, and Hit Team (2001) starring Daniel Wu and Alex To. Thanks in large part to his own personal interest in the subject, Hit Team was praised for its authenticity and attention to detail.

Not so successful were his joint forays with writer Chan Hing-Kar into romance- the sleep-inducing Tiramisu (2002) and the equally bland Love on the Rocks (2004)- or comedy- Naked Ambition (2003). At best, they were disposable entertainment for the masses; but one began to wonder where that potential which he displayed with Beast Cops or Jiang Hu went- and no, directing the big-budget Twins debut movie, The Twins Effect (2003), didn't help either.


Sniper was supposed to be his comeback to the sort of movies that made him famous, and certainly, as he shared with MX on his promotional tour, it was a movie he wanted to make for a long time since working on Option Zero. "I've gotten to know quite a number of Special Forces people over the years, and so I was always intrigued with the possibility of making a movie about snipers," he said then.

An inconvenient scandal derailed it for a year, of which Dante would not divulge any cuts or edits were made in between- but the result was more of a mixed bag. Luckily, that delay a blessing-in-disguise of sorts, because Beast Stalker came out just a few months earlier and wowed both audiences and critics alike with its gripping story and intense action. Suddenly, Dante Lam's star began to rise in Hong Kong once again, hence the flurry of three films which he is making this year.

And we at MX for one, are very happy for Dante- for after John Woo and Ringo Lam have both left for green-er
pastures (yes, we're talking about the money) in the China film market, the one action director we can count on for hard-hitting action flicks the kind Hong Kong used to be renowned for is none other than Dante Lam. It's often not a good thing to be stereotyped, but when you're as good at your craft as Dante Lam, that's really a compliment.







Fire Of Conscience opens in cinemas 1 April 2010
OTHER FEATURES IN THE HK DIRECTORS' SPOTLIGHT SERIES:
. King Of Comedy: Jeff Lau
. Deconstructing Johnny To