Stephen Chow may be Hong Kong's self-proclaimed "King of Comedy" after the 1999 hit movie of the same name, but it is actor/writer/producer/director Jeff Lau that truly deserves the honour. If that name doesn't ring a bell, think "All for the Winner", "92 Legendary La Rose Noire" and "A Chinese Odyssey"- yes, Jeff Lau was writer and director of those Hong Kong classic comedies.



This year, Jeff Lau has set his sights on John Woo's seminal blockbuster "Red Cliff" and done what he does best- spoof it. "Just Another Pandora's Box" is Lau's take on the Three Kingdoms and besides Zhou Yu, Zhuge Liang and Cao Cao, Lau will also transport a cornucopia of characters from numerous other films to the Red Cliff with Pandora's Box.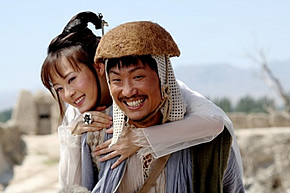 "It's in the same vein as 'The Eagle Shooting Heroes' (1993)," Lau said in a recent interview with TimeOut Hong Kong. "It's a relentless comedy with a huge cast going 'he-he-ha-ha'." That huge cast includes Ronald Cheng, Gigi Leung, Betty Sun, Athena Chu and Eric Tsang, coupled with star-studded cameos by Ada Choi, Yuen Wah, Yuen Qiu, Wu Jing, Alex Fong, Fan Siu Wong, Gillian Chung, and Lam Tze Chung among others.

Since his screenwriting and directing debut in "The Haunted Cop Shop" (1987), Lau has carved an indelible mark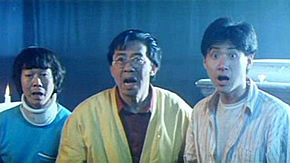 on the Hong Kong film industry with his unique brand of comedy. "Cop Shop" and its sequel combined horror and comedy with genuinely likeable stars Jacky Cheung and Ricky Hui (one-third of the famed Hui brothers) to rib-tickling effect, and opened the doors for his collaboration with Corey Yuen for what was a career-changing box-office hit.

"All for the Winner" (1990) became the highest-grossing film in Hong Kong of its time and established Stephen Chow as the biggest box-office star of the 90s. Lau and Stephen Chow would continue their successful partnership on movies such as "Fist of Fury 1991" (1991), "A Chinese Odyssey" (1995) and "Kung Fu Hustle" (2004) (Lau was assistant director and producer). Lau himself would compare his relationship with Stephen Chow as mother-and-son in an interview with HK Magazine last year. "I'm the mom, of course. He is a naughty child, but he's not a bad person."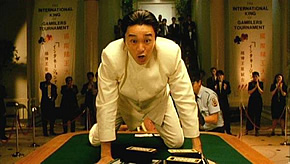 If the collaboration between Lau and Chow was an intuitive one, then that between Lau and auteur Wong Kar-Wai would be the opposite. Yes, we are talking about the Wong Kar-Wai of "Ashes of Time", "Chungking Express", "In the Mood for Love" and other post-modern classics. "Cop Shop" was the beginning of their notable collaborations, which Wong co-wrote and produced. Their followup would be "The Eagle Shooting Heroes" five years later, with Wong on board as producer.

How that came about was also just as interesting as the movie. "There's a dude, called Wong Kar-wai, who's struggling to wrap up his film 'Ashes of Time'," Jeff Lau laughed. "So I shot [The Eagle Shooting Heroes] quickly to save his ass, by fulfilling his film contract scheduled for the Chinese New Year period." Believe it or not, Lau said of 'Ashes of Time': "Its story wasn't so sappy and depressing at the beginning. But as the years went by, it became the film you see today."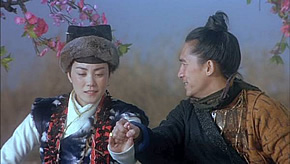 Lau and Wong would also go on to poke fun of their earlier films with "Chinese Odyssey 2002" (2002), one of the rare commercial movies from Wong's Jet Tone Studios starring Wong regular Tony Leung and Faye Wong. Thanks to Lau, Wong proved to have a funnybone capable of slapstick and potty humour in between his often serious and sombre works of art. How Lau found his calling as the king of Hong Kong comedy wasn't exactly immediate.

Instead, Jeff Lau began his career in advertising. There he found he hated both drawing and coming up with artistic ideas, so he quit after only half a year. Lau then became a banker and was put in charge of movie investments- which only made him realise he was no good at running a business. One good thing did come out of his banking stint- it opened his eyes to the movie industry and how he was much better suited for creative efforts.

"Being a director is easy," Lau said. "You don't have to be handsome. All you need is a brain with ideas, and you have to talk a lot." This coming from a person who describes his directorial style as "an irrational director making very rational movies" and finds it amusing that "for someone as weird as me, there're rational people out there who come to see my movies!"


Of course, it is also precisely because of his idiosyncrasies that his movies have proved so entertaining, patenting over the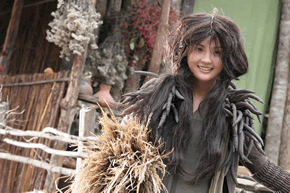 years through movies such as "All for the Winner", "A Chinese Odyssey" and "Kung Fu Hustle" a distinctive brand of comedy that has cemented his position as Hong Kong's unofficial "King of Comedy". Yes, if anything, we can guarantee "Just Another Pandora's Box" will not be just another run-of-the-mill comedy.






Just Another Pandora's Box opens in cinemas 18 March 2010
OTHER FEATURES IN THE HK DIRECTORS' SPOTLIGHT SERIES:
. Deconstructing Johnny To