A Hero Will Rise
The Ang Lee's martial arts extravaganza "Crouching Tiger, Hidden Dragon (2000)" which swept four Oscar awards including Best Foreign Film might have reignite the wave back in 2001. For the last seven years, the "wuxia" genre has been given a huge revival. While it never matches the heydays back in the Shaw classics era, the Hong Kong film industry has been busy churning out "wuxia" genres in recent times, a phenomenon not seen since the early nineties.
"Wuxia" films or films that involved the fantasy, pugilistic world were a common treat in the 1960's and 1970's. Stars liked Ti Lung, David Chiang, Wang Yu, Zheng Peipei and the late Alexander Fu Sheng carved out an illustrious career playing swordsman, pugilist and generals. King Hu and Chang Cheh were some of the leading martial-art directors back then. The one-armed swordman and the golden sparrow were among the many memorable on-screen characters spawned. With the closure of the iconic Shaw production studio in 1985 and the rise of competitors such as Golden Harvest, Cinema City, the "wuxia" genre were temporary laid to rest and most of the actors from Shaw stable either retired or pave their career into television.
In 1990, Tsui Hark set the ball rolling again with Cantopop King Sam Hui as the leading man in "Swordsman (1990)", the adaptation of one of Louis Cha's famous novel. A box-office hit at that time, it revolves to a trilogy, the last being the horrendously mutilated "The East Is Red (1993)" starring Brigitte Lin. A whole slew of "wuxia" films followed including the remake of "Dragon Inn (1992)", "Deadful Melody (1993)", "Moon Warriors (1993)", Ronny Yu's "The Bride with White Hair (1993)", the prolific Wong Jing's "Kungfu Cult Master (1993)", Benny Chan's "The Magic Crane (1993)" and Wong Kar Wai's "Ashes of Time (1994)" just to name a handful. Almost every single novels from Louis Cha, Gu Long and Liang Yusheng were unearthed and make into movies and serials.
By 1995, the Hong Kong film industry has scaled down their production slate due to the popularity of the Hollywood imports and the "wuxia" genre once again went into hibernation. It did had a slight beep at the radar with the success of Andrew Lau's CG enhanced epics, "Stormriders (1998)" and "A Man Called Hero (1999)" but not really a notable revival even though we heard plenty of noises from the industry.
Flying Ideas, Random Targets
Indeed, Ang Lee is the man who deserves most of the credit after his glorious winnings. His success gained the confidence of investors and Tsui Hark shortly announced he is making "The Legend of Zu (2001)", a sequel to his classic, "Zu Warriors (1983)". The end result was pathetic, "Zu" was a critically and commercial flop. The plot was deemed befuddled at best and it was over populated with cheesy CG effects, it did nothing remarkable but expedites the failure of Tsui's career.
Then came Zhang Yimou's "Hero (2002)", the award-winning mainland director surprised the audience with his original story of an assassin and his plotting to murder the Emperor. Although snubbed at major awards, it possessed lush photography, excellent technical aspects, brilliant cast and beautifully choreography action pieces making this a worthy effort to Lee's film. However, the above doesn't apply to Zhang's second "wuxia" attempt, "The House of Flying Daggers (2004)". Technically, it's wonderful as usual but the plot was sadly half-baked and the audience had a good laugh at the supposedly tragic ending.
Of Myths & Empty Promises
The following year, action duo Jackie Chan and Stanley Tong brought us "The Myth (2005)", a la Indiana Jones style action epic with a touch of period, wuxia that contains plenty of cheesy dialogue which had the audience in unintentional stitches. Ironically, it did have a memorable karaoke friendly theme song spinning in your head. Honestly, Jackie's debut as General Meng Yi was pretty impressive, perhaps the greatest letdown was the frequent back-and-forth flashback sequences that kills the whole myth. Don't let me go on about the lame battlefield effects, the teaming up of Stanley Tong + Jackie Chan can do a lot more than these.
Our "never-say-die" Tsui Hark on seeing the "wuxia" craze, assembled a worthy cast including Donnie Yen, Leon Lai, newcomer Zhang Jing Chu, bounced back with his ambitious "Seven Swords (2005)". It was originally intended for a seven-parters but it flops miserably at the box-office that no news were heard after. Logging in at almost 150 minutes, the movie wasn't that bad beneath all that critics' thrashing. Tsui even roped in the semi-retired Shaw veteran Lau Kar-Leung as action choreographer bringing an old-school style of martial-arts back to the silver screen, an apparent reminiscent of Tsui's "Blade (1993)". Pity Tsui was so close to regain his cult status yet fumbled again with too much of his self-indulgent. Kenji Kawaï did serve up a mesmerizing, pounding score which can be heard till today with extracts in promotional TV teasers, movie trailers and errr..business presentations.
In December 2005, another mainland director Chen Kaige showed the world his take on the "wuxia" genre, "The Promise (2005)". With a multi-Asian cast that consists of Korean heartthrob Jang Dong-Gun, Japanese Hiroyuki Sanada and now husband-and-wife Cecilia Cheung and Nicholas Tse, it was a complete mess of fantasy and drama. Earning a nomination in the Golden Globes for Best Foreign Language Film, it was a film that causes one to doubt Chen's talent further after his numerous flops after his successful "Farewell My Concubine (1993)". Similarly, the essence of "wuxia" and martial-arts seem to take a step backward with Jeff Lau's "A Chinese Tall Story (2005)". The movie is what the title implies, mythical and far-stretched to the extent of space. An ambitious project spearheaded by Lau but fails to achieve the same magical status set by his earlier "A Chinese Odyssey (1994)" starring Stephen Chow.
SELECTED MOVIES FROM
MX VAULT:




Swordsman (1990)
DVD Review





The House of Flying Daggers (2004)
Movie Review





Seven Swords (2005)
Movie Review






The Myth (2005)
Movie Review
DVD Review






The Promise (2005)
Movie Review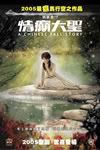 A Chinese Tall Story (2005)
Movie Review
DVD Review