How terrible it would be, if you lose both your sense of sight and hearing? Not exactly true, according to filmmaker Gloria Chee. Do not forget, we still have our sense of smell, and that is one important aspect of life, says the director of Smell of Rain, the latest Mandarin film Singapore can be proud of.
"Our sense of smell is a natural and powerful force," Chee tells movieXclusive.com after a media preview of her debut full-length feature held at The Arts House.
"While watching a show in a dark theatre, we often rely a lot on our eyes and ears. With this film, I hope viewers can appreciate the things we smell as well.
"There are many things around us which we need to slow down and appreciate," she adds in an inspiring tone.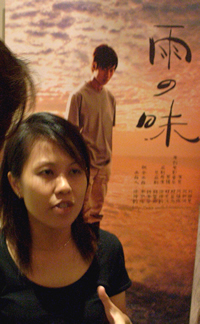 Chee's work tells the story of a lonely young man, whose only connection is with his childhood friend. His static world loses balance when a nubile young girl enters his life. This interpersonal relationship will ask viewers what they have been missing in their frenzied everyday life.
Having graduated from the pioneer batch of Ngee Ann Polytechnic's renowned Film, Sound and Video (FSV) program, the perky and articulate 33-year-old has waited 10 years for this film to be produced. Like most local productions, funds posed as the main problem. With price tag of $150,000.00 Chee happily tells us that it has been one meaningful journey for her.
"It is with all the help from sponsors, family and friends that this film is made possible," she smilingly proclaims.
The talented Chee not only directed the 92-minute film, but also took on the roles of the producer and scriptwriter as well.
"Ultimately, the story I'm trying to tell is how we should look at ourselves and on a personal level, how I stepped out of my own world."

This theme is especially poignant for 22-year-old Nathaniel Ho, who plays the role of the lonely young man abandoned by his mother during a rainstorm many years ago.
Ho says politely: "I am quite a reserved person myself and joining the media industry definitely gave me the opportunity to step out of that world."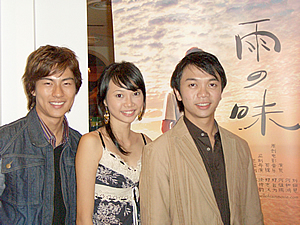 Currently an artiste with Mediacorp Studios, not only did he sing the theme song on the film's soundtrack, he had to survive 18-hour shoots over 12 days, and the public eye as well.
Recalling one of the scenes where he had to do a long take of him and fellow cast member Leah Low walking and chatting in a park, he laughs: "Because we had no proper filming accessories, the camera crew had to be pushed around on trolleys, and it looked really silly, "Passers-by were looking at us, but we completed that scene in three takes," Ho states proudly.
Taking on the role of the girl that would change his life forever is 23-year-old Low, who shares the same sentiments when it comes to the hectic and tiring filming schedule.
"Everything was worth it, because the film has managed to capture something poetic and meaningful.
"And through this film, I hope we can all reflect on our past, present and future," the graduate of Ngee Ann Polytechnic's Film and Media Studies says positively.
Joining these two new actors at the preview was the third member of the principal cast, 24-year-old Trey Ho, who plays the protagonist's childhood friend. Having dabbled in theatre, the recent graduate of National University of Singapore's Theatre Study Programme still finds it a challenge in his debut on-screen role.
"A lot of the acting is through expressions, and not mere reciting of lines,' says the sturdy actor.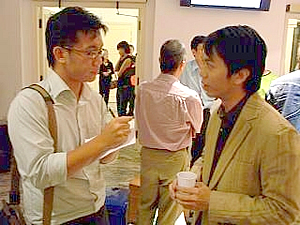 What is one thing he hopes local audience will take home with them after watching the show then? After some thought, he tells us the something which echoes his director's earlier words: "We all need to slow down and touch base with ourselves, and appreciate life."
How very inspirational, we'd say. Now, if only we can all subscribe to that outlook in life, the smell of rain would definitely be a wonderful one.
---
Click here for our review of "Smell of Rain"



Reported by John Li | Layout: Linus Tee | Photos courtesy of Vital Communications