By Gabriel Chong | 14 May 2010

There are few, if any, directing duos in the Hong Kong film industry but if you had to name one such pair, chances are it would be Alan Mak and Felix Chong. Last year, their co-directed film, Overheard (2009), starring three of Hong Kong's leading actors- Lau Ching Wan, Louis Koo and Daniel Wu- was the fifth highest-grossing local movie in the territory. And this year, they have returned with one of the most eagerly anticipated reunions in Hong Kong cinema- Ekin Cheng and Jordan Chan.

Yes, who could forget the big-screen adaptation of the manga, Young and Dangerous, back in 1996, which was so successful that it eventually went on to spawn five sequels and till today is mentioned as the epitome of the triad genre flicks? Thanks to the unexpected success of the film, Ekin Cheng and Jordan Chan became the hottest stars in Hong Kong almost overnight. Yet when the Young and Dangerous series ended in 2000, Ekin and Jordan never made a movie together again.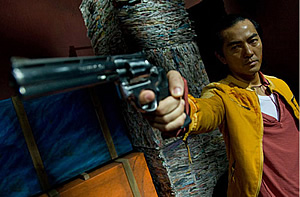 Felix Chong's Once A Gangster (2010) is therefore eagerly awaited as their reunion- and although it may seem like another triad flick, it really is more than that. In fact- would you believe it- the film is actually a black comedy about two once young and dangerous triad members Roast Pork (played by Jordan Chan) and Sparrow (played by Ekin Cheng). Hong Kong cinema isn't particularly known for its dark comedies, but trust Felix Chong to take the industry in a fresh new direction.

After all, it was Felix who did just that, together with co-writer Alan Mak, in 2002 with the classic Infernal Affairs. Back then, the Hong Kong film industry was in its doldrums and badly needed a hit that would restore the lustre on the once-booming trade. Infernal Affairs was that kind of a game-changer, a high-concept film with a solid script, great cast and brilliant direction which went on to garner both critical and commercial success.

"Around 1998, I saw Face/Off and I really liked that movie…With that movie as inspiration, I began to start to think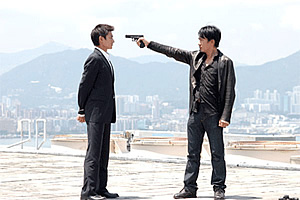 about a story in which two people swap identities. Infernal Affairs really started from there," said Alan Mak in an interview with HK CineMagic. "In Hong Kong, there are so many movies about undercover cops, but we didn't have any about a triad member infiltrating the police. Actually, I think it must happen, so Infernal Affairs came out of that idea."

Before Infernal Affairs, Alan Mak was a director of mostly youth-oriented movies such as Rave Fever (1999), Final Romance (2001) and Stolen Love (2001). It was on the last two that Alan Mak began collaborating with Felix Chong, the screenwriter of mostly forgettable action movies such as Gen Y Cops (2000) and Tokyo Raiders (2000). Neither could have anticipated how their third collaboration, Infernal Affairs, would change their careers- seeing as how it almost never got made.


"That was a hard moment, a horrible time in Hong Kong. Box-office figures were so low," said director Andrew Lau, who founded Base Production Ltd to make Infernal Affairs. "Even in the best of times, it's hard to knock on doors, find a producer and find investors. Media Asia liked the idea, and I spoke to the executive producer there who understood it was a high concept film. He tried to increase the budget for us, but I calculated that even with 20 million Hong Kong dollars in box office, we would still lose money." But just like the auspicious start Young and Dangerous was for Andrew Lau's maiden film company, BOB Pictures, in 1996, the first movie from Andrew's Base Production, Infernal Affairs, would also become an unexpected box-office smash.

Suddenly, the trio of Andrew Lau, Alan Mak and Felix Chong became the hottest property of the industry and went on to write/produce/direct three high-profile pictures- Initial D (2005), Moonlight in Tokyo (2005) and Confession of Pain (2006). However, Initial D was the closest they ever came to achieving the same level of success as Infernal Affairs- both Moonlight and Confession unfortunately didn't resonate as much with audiences.

After Confession, there were just two- Alan and Felix- and they next teamed up for the action comedy Lady Cop and
Papa Crook (2008). Though it marked the return of Sammi Cheng to the big screen after a three-year absence, the film was largely regarded as underwhelming and was greeted with a lukewarm reception at the box-office. It seems understandable therefore that when Alan and Felix wanted to make the commercial thriller Overheard, they found their career-changing piece, Infernal Affairs, to be both a blessing and a curse.

"There are two sides to this. One side is brilliant: it built a name for us, for having interesting scripts, responsible budget management, wonderful box office results, and good working relationships with the movie stars," said Alan Mak in a recent interview with TimeOut Hong Kong. "Another side of the coin, though, really sucks. Whenever we start a new project, the investors always want us to make another Infernal Affairs, like Infernal Affairs IV, V and VI, etc. "But it's simply impossible. Even when these investors take a step back, they still want us to make a cop/crime drama at least, as it's their safest bet."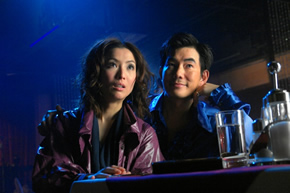 In the end, Derek Yee [writer/director of Shinjuku Incident and One Nite in Mongkok] stepped in as producer and the rest was history. "Originally, we were only approaching him to get his advice on censorship issues. He gave us some advice; we adopted them and amended the script, and we still struggled to find an investor. He learnt about this, and – since he thought that this story is one that deserves to be made into a film – he promised to find us the budget," said Felix Chong.

Not only did Derek helped Alan and Felix secure the budget for Overheard, he also helped them get the principal cast they wanted for the film. Said Daniel Wu of his first working experience with the duo: "You'd think that with two directors, things might get more complicated, but it was actually quite amazing how in tune they were and how cleverly they divided up the roles."

"Felix was more familiar with the character motivations, so we'd speak to him about that. Alan was more in charge of the camera sequences, positions, camera positions, the technical stuff. It was a lot better, because instead of one person which you would have to keep discussing your roles with, now there were two." Though there is certainly strength in numbers, Felix Chong is gunning for solo in the writer/director's chair for Once A Gangster (which Alan only produces).

But that wouldn't be the end of the duo- Alan and Felix are already into pre-production of their next big-budget film, a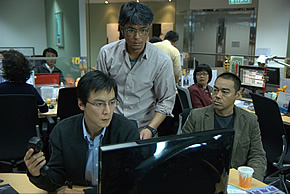 historical action epic starring Donnie Yen as Guan Yu that might prove to be their biggest undertaking yet. Yet for Felix, Once A Gangster is his first foray into solo directing, and a chance to prove that he has got what it takes to go at it alone.

Not many people in the Hong Kong film industry have the clout to do crime thrillers one moment and black comedies the other- and with their gradually diverse repertoire of films, the duo of Alan Mak and Felix Chong can safely lay claim to that honour.

Once A Gangster opens in cinemas 20 May 2010
OTHER FEATURES IN THE HK DIRECTORS' SPOTLIGHT SERIES:
. Man With A Puff: Edmond Pang

. Man On Fire: Dante Lam

. King Of Comedy: Jeff Lau

. Deconstructing Johnny To