THEY CAN FIGHT BUT CAN THEY ACT?
By Gabriel Chong | 15 January 2010

Who would have thought that a nine-time professional wrestling champion could become one of the most bankable stars of family comedies? But by the time Dwayne Johnson, better known as The Rock, dons the signature tutu, wings and wand in Fox and Walden Media's "The Tooth Fairy" opening in cinemas this January, he would have pulled off just that magic trick.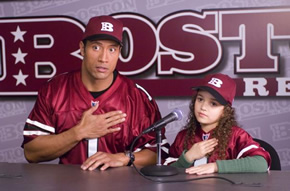 Since demonstrating his very likeable charm in Disney's "The Game Plan", the 1.93m tall actor has made himself family-friendly material by starring in the PG-friendly remake of the classic sitcom "Get Smart" and returning to Disney for a "Race to Witch Mountain". And it seems audiences have taken quite positively to Dwayne Johnson's recent foray, judging by the box office success of the aforementioned films.

But the burgeoning success of Dwayne Johnson's film career is significant for another reason- as WWE's most recognizable (and bankable) star, he was to be the first of several other WWE stars who have attempted to make the leap from the ring to the big screen. Indeed, Johnson's early films, 2003's "The Rundown" and 2004's "Walking Tall", were both backed by WWE Films, the film division of World Wrestling Entertainment that was first set up in 2002.
IThe intention was for the profits from its film division to bolster the already lucrative business that WWE was enjoying on the DVD market, and also to boost interest in its other content, like Wrestlemania, pay-per-view and TV broadcasts. But nine years later, that strategy hasn't exactly worked out.
After making a splash with the US$80 mil worldwide success of "The Rundown", WWE Films had to contend with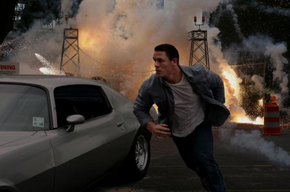 modest hits like "Walking Tall" and "The Marine" and downright flops like "See No Evil" and "12 Rounds". What's more, putting aside the successful crossover of Dwayne Johnson, none of its other WWE stars so far have proven their box office mettle- not John Cena, Kane, Mr Kennedy or Ted DiBiase Jr (although to be fair, the last two had their films released straight to DVD).

WWE said that the problem lay in the fact that the studio focused on making movies that earned an R rating in the United States (which meant that no child under 17 could watch them alone)- basically violent action flicks or gory horror pictures that limited its box office potential. Not any more apparently- the studio has since decided to take a leaf from the success of Dwayne Johnson and diversify its offerings.

Michael Lake, president of WWE films and former head of production over at Village Roadshow Pictures, said in an interview with Variety: "We had to refocus where we wanted to go. There's a strong audience base that is ready for movies that star our guys. A lot of our audience is in the PG-13 area." In other words, Lake said, expect to see more "The Game Plan" type of films from WWE.

With his eye on the family market, Lake had announced that the first of such family-friendly films would be debuting this year. Tentatively titled "Brother's Keeper", it is the story of a book-smart teenager who joins his school's wrestling team to reunite his surviving family members after the death of his father. With John Cena in the lead role, it's clear WWE hopes to do with Cena what Disney did for Dwayne Johnson.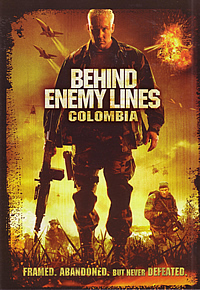 But that's not to say that WWE Films has taken their eye off action movies. Why should they, since their greatest asset is their 150-person roster of athletes primed to be Hollywood's next action stars? There's however a gradual realization that the action movies that these wrestlers are naturally suited for belong more as direct-to-DVD titles than straightforward theatrical releases.

And so included within its game plan is the intention to produce another 4 direct-to-DVD titles (like "Behind Enemy Lines Colombia" and "The Marine 2") with a budget of around US$5 mil each- alongside the one-pic-a-year US$20-budgeted theatrical release that would presumably now focus on family comedies.

"These guys are action stars already," Lake said. "People still want solid action heroes." Tempered by the experience of their earlier big-screen failures, it is as if WWE Films has realised that the leap from the ring to the big screen is just too vast for even some of their most popular wrestlers. That's not to say though that they can't make that leap onto the small screen. Hey, if Steven Seagal has somehow managed to find his place in direct-to-DVD action flicks, there's no reason why Mr Kennedy or Ted DiBiase Jr can't? After all, at least they can still do all of their own stunts.

In Part Two of our article, we take a look at the various WWE crossover stars >