If the recent breed of Hollywood comedies seem to be filled with raunchy dialogue, carnal quests and in-your-face nudity, know that it is no coincidence. They are simply the hallmarks of a new era of comedy spearheaded by Judd Apatow, an era of R-rated irreverent comedies filled with pot-smoking, sex-obsessed slackers who bond by sitting around and making fun of each other.
Talk to Judd Apatow and it's not hard to understand why. "I always hated it when people said that the stars of TV and movies should be handsome, popular guys," he said in a recent interview with TimeOut London. "The history of comedy is full of guys like Buster Keaton and Jerry Lewis. Who wants to watch a handsome guy who's smart? There's nothing funny in that."
So Judd Apatow invented the "bromance", a style of comedy defined by male (platonic) friendships between, and among guys, very often in a period of arrested adolescence. These guys (or geeks) weren't particularly handsome or smart- no, they were mostly Average-looking Joes who just loved to revel in each other's company.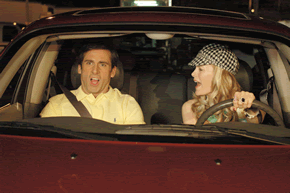 Since his breakout hit, "The 40-Year Old Virgin" (2005), Apatow has religiously championed the rise of the "bromance" through most, if not, all his films- those he wrote (e.g. Knocked Up (2007), Walk Hard: The Dewey Cox Story (2007), Pineapple Express (2008)) and those he produced (e.g. Talladega Nights (2006), Superbad (2007), Step Brothers (2008)).
And if you need any further proof of his success, just look at "Role Models" (2008), "I Love You, Man" (2009) or "Adventureland" (2009). These are movies that could very easily have been mistaken as products of the Apatow Productions factory; only that they are not. Appreciating the merits of his "bromance" formula, Hollywood has begun copying that distinctive template, even casting actors from the regular Apatow stable.
It's Not Just About the Laughs

If "broman-dies" are just about laughing at guys who belonged to the slacker class, then you can very well accuse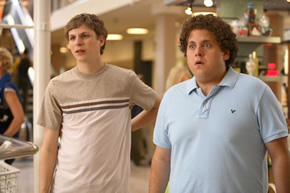 Apatow of being callous. But Apatow's comedies have always been more than that- they don't just make you laugh at the characters within them, they make you laugh with these characters.
"I'm trying to show people who need to grow up. Some of it is hilarious, and some of it is hilarious because it's so wrong. But you should be able to make fun of everybody if your heart is in the right place," he once said in an interview with the Los Angeles Times.
One thing you can be sure of- Apatow has always placed his heart into what he does. Indeed, ever since his 1999 TV series Freaks and Geeks, he has constantly brought a certain measure of autobiography with him into his work. "That's when I started seeing how being confessional worked," he said.
In fact, his latest movie, "Funny People" may be his most intimate and personal one yet. It tells the story of George Simmons (played by Adam Sandler), a comedian who attempts to reevaluate his narcissistic life after being diagnosed with a fatal disease. In doing so, Simmons befriends a struggling comic Ira Wright (Seth Rogen) and pursues a lost love, Laura (Apatow's own wife, Leslie Mann)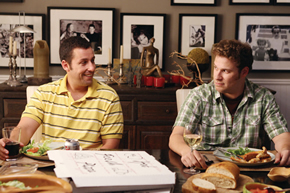 Apatow came up with the premise of the movie after a personal harrowing incident where an earthquake brought down the ceiling of the master bedroom in his new house just before he moved in. Besides its premise, the relationships in the movie also bear a personal origin.

"I tried to make a film that contained everything that was important to me," he says. Apatow agrees that the friendship between George and Ira in the movie is partly based on his own with comic Garry Shandling when the former was starting out- only then he was Ira, and Shandling was George.
It was Shandling who gave Apatow a big break by hiring him for five years as a writer on "The Larry Sanders Show" and Apatow readily credits Shandling as his mentor. "What I learned on 'The Larry Sanders Show' is this: write about what you care about and be as truthful as you can. I try to make sure that whatever I do, even if it's a really silly comedy, the people making it are obsessed with it."

Continue to The Apatow Touch Part Two >