It's hard to imagine having a shy director behind the lenses for such a controversial movie. But for Zero Chou, the director of "Spider Lilies", the lesbian-theme movie from Taiwan happened to be one.

Together with cutesy-pie, compere/actress Rainie Yang, the pair zipped into town recently for a whirlwind promotional tour for the R21 movie.

Commenting on the influx of gay-themed movies in recent years, Zero added that it's an appropriate time to introduce audience a movie that looks at lesbian relationships although she tends to hide behind the monitor during the shooting of the more intimate scenes between the leads which explained the "shy" factor..

The soft-spoken, young filmmaker feels the fresh pairing of Rainie Yang and HK budding young actress, Isabella Leong (a pity she was not present) resulted in great chemistry onscreen.

The chirpy Rainie says that it's hard to believe that Isabella in real-life is in fact a few years younger than her, much to the surprise of the media.

When prompted on how she prepare for her role as a daring webcam girl, Rainie openly disclosed she has to plough webcam girls websites using a disguised identity as a form of research to understand and discover how her onscreen character will behave.

With Isabella's soft, smooth facial skin and baby-like smell, Rainie has no qualms on kissing and getting intimate with her co-star as compared to say, getting cosy with a male actor with stubble.

Despite facing objections from her fans in the initial stage, Rainie feels it's just a character she's getting into and she's definitely not the type of girl offscreen so as to assure her worried fans.

The cute petite girl looks set to storm the acting arena in future giving her guts to explore different types of roles. Give her a little bit more time and we might see more than just mere "Spider Lilies".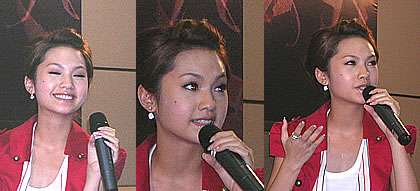 Spider Lilies opens islandwide 14 June 2007 and is reviewed here!
You might also be interested in it's official soundtrack