If we can set our own rules, Rule #1 will be "Remember to bring a bigger umbrella with us in future".
You see, on this pouring March afternoon, the local media are invited to the old NAFA campus at middle road for the press conference of Kelvin Tong's new horror thriller, "Rule #1".
Kelvin Tong, the man behind "Eating Air" and of course "The Maid" shared with us how he came up with the idea of "Rule #1". Amid the many calls received by the police force per day, what IF there are at least 5 funny phone calls involving the supernatural or unexplainable? This propelled Tong to delve into further research, interviewing retired and current police officers serving in the force to verify his so-called "hunch". And amazingly, it was randomly admitted by them.
But given the sensitiveness of the theme which won't be given the clearance by the men-in-blue, Tong has to resort filming his story in Hong Kong (which is quite a pity and for a while we thought the local authority is opening up) instead. Thus this explains why it's a local horror story that can't be told here.
To really project the feel of the story, Tong and his crew managed to scout locations in Hong Kong which are closed to what he has originally in mind. For example, the Nan Hua Association swimming pool at Causeway Bay stands in for our now abandoned Kim Yan swimming pool and a school at Happy Valley substitutes the old NAFA premise.
One of the male leads, Ekin Cheng had a spooky encounter while on a toilet break during filming. The premise they are filming on is a deserted building and Cheng has this strange feeling while walking along the corridor to the gents, perhaps there's really something following him around.
Spiritual stuff aside, both Ekin and Shawn were initially not convinced that a young-looking director liked Kelvin Tong can pull off a horror genre. Shawn added that Kelvin might be more suitable to doing comedies. But to their surprise, Kelvin is truly a horror auteur when filming starts. When observing Tong at work, Shawn realized that Tong really possessed some crazy concepts in his mind. Our own local starlet, Fiona Xie who had a starring role opposite Shawn let out that Tong even showed her some bizarre photos of corpses prior to filming!

The early buzz on "Rule #1" seems to be on the positive side. Kelvin should be able to bounce back with a vengeance this time round given his last experimental comedy effort, "Men In White" was widely panned by critics.
Written and directed by Kelvin Tong, "Rule #1 " opens on 13 March and is reviewed here.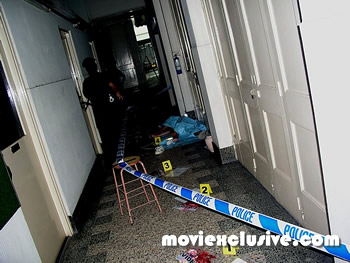 Leading to the press room is a re-enactment of a crime scene, great effort by the movie distributor to spice up the atmosphere. The old NAFA campus was used by the Japanese during World War II and without saying more, try take a tour into this historical place and you should know why Kelvin is so interested in filming here in the first place.