Team movieXclusive.com is proud to bring you our latest interview session with talented local director Royston Tan, at a neighbourhood kopitiam, savouring kopi and toasted bread in a noon brunch. We thank Royston for the opportunity, especially since it's a Sunday! We discussed everything from his upcoming release 4:30, his iconic, controversial past works in which he had a brush against the censors, to theatre and his new work-in-production. Read on to find out more!

movieXclusive.com (mX): What are your thoughts on critics comparing 4:30 to Kim Ki-Duk's 3-Iron?
Royston Tan (RT): It was purely coincidental. I wrote the script, and brought it to Korea to seek funding. I was then told to watch 3-Iron, and was surprised at the similarities. I wanted to change it immediately but I was told by NHK (Japan Broadcasting Corporation) not to change it and just do it as it was my vision. Nonetheless, I still made some minor changes to differenciate the similarities between 4:30 and 3-Iron.

mX: Is there any significance on the casting of a Korean in 4:30?
RT: It is my way of saying "Thank You" to the Koreans, and the Pusan Film Festival. I'm the first Singapore director to be featured 5 times at the festival, and it actually introduced my works to the rest of the world, starting with "Sons".


Royston shared with movieXclusive.com about the affinity that the Koreans had taken to him, which included a particular housewife who will make cakes for him each time he returned for the festival, and many fans who took pictures with him, to return during the next season of the festival for him to autograph their group pictures. Looks like Royston has a huge fan base in Korea, and he's sincerely touched that they even broached the subject of offering him citizenship if his controversial movies do get him into trouble. (P.S. Royston don't go, Singapore loves you!)


mX: Whatever happened to the rabbit suit?
RT: I've done the gig for 2 years, and the rabbit has finally retired. I still get requests about it though. (Referring to the earlier question on Kim Ki-Duk) Actually he calls me "Rabbit", and I refer to him as "The Drunkard" because he always seemed drunk!

mX: What went through your mind when you were named as a TIME Asian Hero?
RT: Actually they were very secretive about it! They requested for a picture of me only a week before, and I was surprised that it was for that honour. I was also told that they were witnessing what I was doing, and I felt that recognition helped people like me to be more courageous about my opinions in my films, and it also made the censors aware too that they are being watched overseas as well.

mX: In 2001, you directed and produced two plays, "1969" and "Beyond the Cage". How does theatre vary from film?
RT: In film, you can redo scenes again if there are mistakes. In theatre, the state of mind is different, and I had to also train a group of amateur actors, which was a challenge. The people element is also different in theatre, as you begin and end the production as a group, and the relationship is more intimate. In film, once it is "immortalized", it then travels on its own.

mX: Was theatre your first love?
RT: Theatre is my first love, and I've liked it as a kid, but had no
opportunity of access to it.

mX: Will you go back to it?
RT: I'm too used to being behind the camera now! (laughs) Although two months ago for the arts festival, I had a collaboration with the Drama Box.

mX: A Clockwork Orange, The Evil Dead, Battle Royale and 15. Was it an insult or compliment to be placed in the same list as the other cult hits?
RT: Geneva actually had cult followers of 15! And in Sweden, it played at the Royal Palace, and was one of the few films to have sold out there. In the European screenings, there were the hardcore Euro version of the "ah bengs" attending the screening. Initally I was worried that people from overseas might find difficulties in relating to the material shown in 15 but I guess I was wrong about that. At the end, they actually thanked me and were full of emotion about that film. They also mentioned they were waiting to see another one which I was very moved by their support!

mX: Are there any influence from your favourite directors?
RT: In the past, I can distinctively identify and tell you who. However, I find that these days everyone is influencing each other, like how Eric Khoo mentioned that I've influenced him too. In the film festival circuits, directors usually meet up and have an exchange of ideas. I liken it similar to "universal ideas orgies" (laughs). Stephen Chow remains one of my favourite directors, as beneath the laughing and the slapstick, his movies explore people issues. It's toughest to create comedies which can make you laugh and cry at the same time.

mX: Any favourite movies?
RT: I enjoy the Three Colors Trilogy (Blue / White / Red) by Krzysztof Kieslowski, and it remains my favourite of all time. If there's a such thing as a perfect movie, the Three Colors Trilogy will be my choice. i love it for the way how the layers of stories are intricately woven together, and its tip top cinematography.

mX: If you had the choice to watch ONE last movie before you die, which would it be?
RT: That's a new question that's never been asked before. (Pauses) It'll be 15, and not for ego's sake. While an audience watch the film at its surface, I look at it and recall memories of behind-the-scenes, of friends coming in to make things work. I view it at a personal level, and how it all started, how it has the most personal resonance with me. So it'll be 15.

mx: If you were given a choice to cast any actors for your next movie, who would you choose to work with?
RT: Fann Wong and Phyllis Quek... (cheekily) in a porn movie!


We discussed a bit about censorship, and how Royston noticed that it's rapidly changing, and he even have Ministers talking to him about what can be improved with our censors, which he thought that more protection and respect should be accorded to our local filmmaking industry. We also dwelt into how his run-ins with the censors started (and his response in his short film Cut, where it had many people in the industry hamming it up) and how 15 cannot be screened at the local theatres, as there were concerns of "people fighting in cinemas" !


mX: What will your next movie be?
RT: It'll be a surprise for everyone, as it is something fresh. The audience will not expect this. The production will start soon, sometime in December or January. I can't divulge more!

mX: (trying to probe more) What's the genre?
RT: It'll probably not be horror as I cannot do horror. I've tried it before for Channel U, but bizarre things kept happening on the set!

mx: Where do you see Royston Tan 5 years from now?
RT: I should have at least 2 more films out by then. In 5 years, there should be a new generation of young filmmakers emerging. I belong to the"3rd generation" of filmmakers, so by then I could probably retire when the 4th generation becomes established!

mX: Someone mentioned that a Singapore film can win the Oscar in 5 years time. What are your thoughts?
RT: I do not think it's possible in 5 years, as the confidence level in our films is not there yet, in terms of having world class stories, scripts, direction, etc. We haven't reached that maturity yet, so probably not in 5 years.

mX: (still trying to probe more into his next movie) Will it have a numerical title?
RT: Yes it will, another 3 numbers, and it'll fit the subject. It'll be the most accessible film I ever did, and will be featuring an all female cast. Here's an additional big clue - "many chickens will be sacrificed in the film"!



Anyone dare to warrant a guess at the title?

To qualify, simply watch Royston's new movie 4:30, then email us at
[email protected] with the subject
- "I Know What the Title Is!", with:
1. your guess of the title
2. a one-liner of what you think of 4:30
The prize will be 1 x Royston's Shorts DVD.
Should there be more then one correct winner, then the judges will select the best one-liner, and the decision is final.

Royston's Shorts, a compilation DVD of his award winning and most talked
about short films, is available now at stores. You can check out our review
by clicking on this link.
4:30, Royston's latest feature film, premieres this Thursday in local
cinemas. You can read our review of the movie by clicking on this link.
A Royston's Shorts DVD to be won!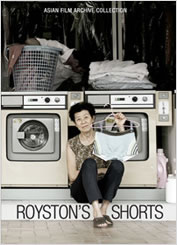 Read on with the interview and get a chance to win!