Last Lunar New Year, our team from moviexclusive.com managed to witness the opening ceremony of Jack Neo's "Just Follow Law" (You can read the coverage here). Now almost a year later, the finished product is ready to be projected onto the big screen.

Stars Gurmit Singh, Fann Wong, director Jack Neo, renowned music producer Billy Koh and General Manager Lim Teck from InnoForm Media were present at today's "Just Follow Law" press conference held at GV Vivo.

The idea of "Just Follow Law" was first pitched to Fann Wong by Director Neo during one of their many backstage meetups although the funny thing is both of them can't agree exactly where did the agreement took place.

The ever funny Gurmit and Jack contributed plenty of bone-tickling ancedotes, one of them is a supposedly sexy shower scene in the film but Gurmit lamented that if you pull the camera way backward, you will see that Fann is actually heavily covered with tapes and towels.

As to how she mastered the characteristics of a man in the movie, Fann was queried by one of the media if she indeed has sought advice from his beau, Christopher Lee. The ever friendly Fann explained that since Lee is not familiar with the requirements of the script, she can only managed to coach him on doing a brief demo of how a man walk during one of their dinner outing and yes *gasp* in public!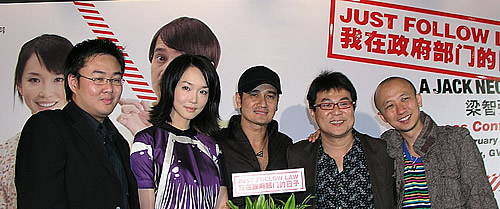 Being one of the prominent judges for Project Superstar and also a mentor to local artistes such as A-Do and JJ Lin, Billy Koh's music company, Ocean's Butterflies was commissioned by Jack Neo to create the music for "Just Follow Law". Instead of doing it in-house as per other J-Team productions, it's a refreshing attempt by Neo although Billy admits it's tough to do up the lyrics for the former due to his demanding standards.
According to InnoForm Media's General Manager Lim Teck, the rights for "Just Follow Law" was sold to numerous Asian countries including Malaysia where Gurmit has a pretty strong fan base and also due to the fact that Singapore's most marketable artiste Fann was in it as well.

Since Christopher was unable to attend the night's gala premiere, Fann has hinted that she might be bringing along Lee to watch "Just Follow Law" when it opens. And so if you are one of those lucky souls, you might perhaps spot the pair of lovebirds getting all cosy inside the cool cinema hall.

Moviexclusive.com is not encouraging you to barge in of course. Just Follow Lor to buy tickets in the theaters this Lunar New Year and have a laughing start to a lucky PIG year courtesy of Jack, Fann and Gurmit.
Just Follow Law opens islandwide 15 February 2007
and is reviewed here!