JACKIE CHAN'S CHINESE NEW YEAR KUNG POW!
by Linus Tee | 28 January 2010

Chinese New Year brings a lot of familiar traditions- among them steamboat, angpows, bak kwa and the usual endless rounds of house visits. But there was one particular tradition that began in the early 90s and lasted up till 2001 which we would remember fondly- a trip to the nearby cinema to catch…yes you guessed it, the latest Jackie Chan (JC) action flick.
It all began back in those times when cineplexes and multiplexes were non-existent, and things were much simpler. Chinese movies were distributed by either the once Eng Wah cinema chain or Cathay Organization- and JC movies happened to be distributed by the former. In other words, if one wanted to catch a JC movie, you'd had to travel to the nearest Eng Wah cinema to catch it.
As best as we can remember, that CNY tradition began the year "Armour of God II: Operation Condor" was released back in February 1991. Filmed on location in Marid, Spain and Morocco, the sequel to the original "Armour of God" saw JC reprising his role in the original and taking on a group of treasure hunters seeking Nazi gold. The US$15 million movie (a huge sum at that time) was a hit with audiences in Asia.
The following year, JC fever struck again with "Twin Dragons". Directed by Ringo Lam and Tsui Hark, "Twin Dragons" was notable for JC's twin roles- a classical music conductor and a mechanic. Although the movie contained more slapstick comedy than heart-stopping action, it proved to be a huge hit with audiences and reaffirmed the JC brand.
In between his CNY releases, the hardworking action star would squeeze in another movie timed for the usual summer blockbuster season. That year, Jackie Chan revived his Police Story franchise with the help of director Stanley Tong and co-star Michelle Yeoh (who made a career comeback after her much-publicized divorce) in "Police Story III: Supercops".
After strike two, JC continued his CNY break in 1993 with the adaptation of the popular Japanese manga, "City Hunter". Helmed by the notorious Wong Jing, there were rumours swirling around regarding Jackie's disputes with Wong. There was also talk that JC took over directing duties in the end. Despite the bad press, "City Hunter" was again a huge hit, and remains most memorable for the Street Fighter sequence in an arcade onboard a cruise ship.
The Year of the Dog (1994) saw JC returning to the martial-arts arena with "Drunken Master II", the much anticipated sequel to the Yuen Woo-Ping 1978 classic. Directed by Shaw Brothers veteran, Lau Kar-Leung, there was again talk of JC clashing with his director, with reports of Lau leaving the set after clashing with Jackie over the style of fighting to be featured in the movie. Even to the untrained eye, it was obvious that there were jarring differences between the fighting styles employed by Jackie's character in the 102 minutes movie compared to the more consistent original. Lau went on to direct an unrelated "Drunken Master III" that went belly-under at the box-office.

For his next two consecutive Chinese New Year features, JC teamed up with Stanley Tong for "Rumble In The Bronx" and "Police Story IV: First Strike". Bronx was a huge success for JC and helped propel the man into the mainstream American box office the year after. "Police Story IV"- featuring some amazing daredevil stuntwork in the snowy mountains of Ukraine and an explosive finale shot in Australia- was also a major box-office success in 1996 and remains JC's biggest hit in his native Hong Kong.
Jackie Chan's Chinese New Year Kung Pow! continues on page 2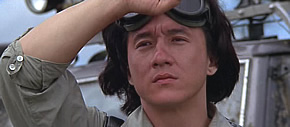 Armour of God II: Operation Condor (1991)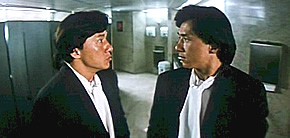 Twin Dragons (1992)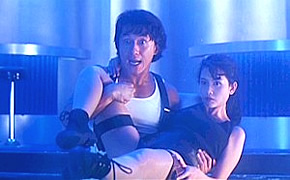 City Hunter (1993)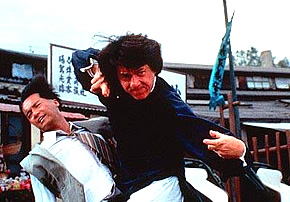 Drunken Master 2 (1994)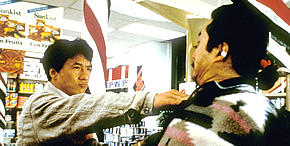 Rumble In The Bronx (1995)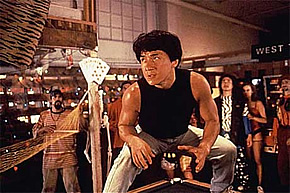 A scene from Rumble In The Bronx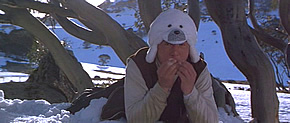 Police Story IV: First Strike (1996)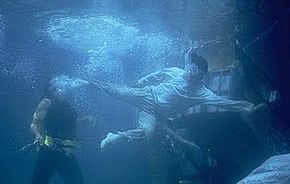 A scene from Police Story IV: First Strike