2nd Malaysian Film Festival
Film festivals are in season or at Cathay at least. The Korean film festival paved the way with exciting choices showcasing works by rising director, Kim Ki-Duk (3-iron, Samaritan Girl) and one of Korea's top grossing box-office hit, "Silmido". This will be followed by "Adaptations" the Japanese film festival between September 28th to October 9th and now, between September 23rd-26th, Cathay proudly presents it's 2nd Malaysian film festival. Word is, this might be followed by a French and a German film festival. Surely, the audience is being pampered with a slew of diverse films while we await the re-opening of the Picturehouse next January.

On the evening of September 22nd, the Malaysian Film Festival was launched with a gala opening which was graced by His Excellency, Mr. S.R. Nathan, the President of Singapore. Coming off from last year's festival, in which Yasmin Ahmad's "Sepet" was the highlight, this year's choice was "Gol and Gincu". Though the festival might appear short, the line-up is pretty impressive with potential hits like "Sanctuary" and "Monday Morning Glory" being paired with renowned auteur, U-Wei Haji Sa'ari's award-winning "Kaki Bakar" and "Buai Laju-Laju".

The gala opening was also attended by Datuk Parameswaran, the Malaysian High Commissioner to Singapore and other dignitaries from Malaysia. The guest list also included Bernard Chauly, Nur Fazura, Sharifah Amani and Rafidah Abdullah, the director and cast of the premiering film. Also in attendance was the executive producer of the film, Marina Mahathir, the daughter of the former Prime Minister of Malaysia.

The evening began with a traditional Malay dance followed by the arrival of the President. As he was being introduced to the cast, he was told that Sharifah Amani also starred in last year's premiering film, "Sepet". The President then quipped, "I enjoyed it [Sepet]" and Sharifah replied by saying that a sequel is in the works.

It was then announced that in addition to the re-opening of the Picturehouse, Cathay also intends to venture into Malaysia by opening a cinema there. Plans are also set in motion to have the first annual Singapore Film Festival in Kuala Lumpur next year. With this, the theatre industry was applauded for its efforts in having joint productions such as "Causeway" and "Separation 40" which just ended its run at the Esplanade to sold-out shows and will be performed in Kuala Lumpur next. A call for film-makers in both Singapore and Malaysia to collaborate on future film projects was made before the gala opening ended. The audience was then treated to the Singapore premiere of "Gol and Gincu", which rounded off the day's events.

Cathay will continue to become a household name for its keen eye in picking out films that cater to a niche audience. And now, with staunch support towards the development of both the local and Malaysian film industry, this can only be a sign of good things to come for film lovers alike.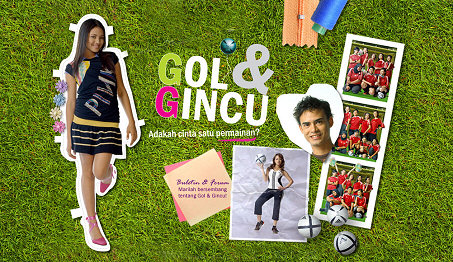 Boy loves girl. Girl loves boy. Girl gets too dependent on boy, boy breaks up with girl. Girl tries to win him back. The premise of the story seems like it's all too familiar but Gol and Gincu scores, literally! First with Sepet, now with Gol and Gincu, there seems to be a rising trend. The Malaysian film industry is showing a knack for making movies that revolve around clichés but are presented in a personal form which allows the audience to feel and identify with both the story and characters.

Gol and Gincu would vaguely remind one of the Iron Ladies, on their quest to success or even A League of Their Own, as said by director Bernard Chauly. While the prominent story arc is Putri's (Nur Fazura) attempts to win back her futsal playing ex-boyfriend by playing the same sport, she is matched with characters like Zie (Rafidah Abdullah) who serves as a peer mentor and coach, Jiji (Sharifah Amani) who has problems at school and at home and the rest of the oddball cast who have their own share of issues. What strengthens a team is its dynamics and that's exactly what the motley crew has. The matching of all the characters makes things believable and hits pretty close to home, drawing much giggles and laughter from the audience which included our President!

The organizers of the Malaysian Film Festival have a keen eye for choosing the right movies. With such great choices to choose from, movie goers will be treated to a year round feast of movies. Let's hope for an even greater festival next year!
Reported by Mohamad Shaifulbahri | Photos & Layout by: Lokman BS