SYNOPSIS:
Intellectually challenged, Jun (Leon Lai) was abandoned by his family on a trip to Japan. When he meets his primary school classmate Hoi (Chapman To), he thinks he has found his guardian angel. However, he is unaware that Hoi is heavily in debt and is willing to do anything to pay it off. When Hoi's friend suggests that Jun will make a perfect gigolo...
MOVIE REVIEW :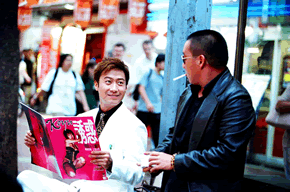 Written and directed by Alan Mak and Felix Chong, you might be wondering how did the famed duo, responsible for flicks like Initial D and the Infernal Affairs trilogy, come up with something off tangent like Moonlight in Tokyo.
Starring Leon Lai and Chapman To in lead roles, the movie tells the story of how two strangers in Tokyo meet, hook up, and develop a kind of brotherly bond, with homosexual undertones, somewhat. Lai plays Jun, a low IQ simpleton who gets abandoned in Tokyo by his brother's family, finding him a liability. To plays a down and out pimp Hoi, who owes the Japanese gangsters a huge debt which he has to pay off, otherwise he'll have to join their ranks as a gigolo.
Jun and Hoi meet in the streets of Tokyo one day, and the former recognizes the latter as an ex-classmate. They unwilling form a bond as Hoi needs whatever money Jun has, until they run out. But with Jun's supposedly pretty boy good looks (Lai has visibly aged in this movie, and it pains to see him act cute), and uncanny prowess to sooth the person he hugs, Hoi hatches an idea to make money, by having pimp Jun as a gigolo.
But don't be expecting cheap laughs ala Deuce Bigelow, though you'd already be anticipating weird clients to call for his services. In between their exploits we learn a bit more about both characters, about trusting oneself, of self-worth, and friendship.
Audiences who cannot stand actors acting cute or playing down their age group, might find Leon Lai's performance a turn off. But essentially that's what the Jun character is all about, innocence. No doubt that a dark side was added to his character, with his throwing of stuff when enraged, but with his transformation to chic gigolo plastered with that smug look, you'll wonder why the once Heavenly King would take on a role such as this. Chapman To seemed to be breezing through his role as the indifferent and exploitative Hoi, essentially playing similar characters like in Infernal Affairs and Initial D, so it's pretty familiar ground revisited for the audience.
The movie seemed to have mixed direction halfway through, and therein lies its weakness. Exploring a couple of themes, the narrative lacks coherent strength in propelling the plot forward. In the end, you could think of the finale as so, because of the conscientious thought of not becoming a stereotypical movie, or done so because it wants to fall back on melodrama?
While the visuals at times have the arty feel draped over it, with its quick cuts, stylish edits done MTV style, it cannot mask the fact that they're used to cover up the weaknesses in plot. Which is quite a pity, as the characters Hoi and Jun certainly had potential shown in their chemistry to have put the movie on a higher plane.
SPECIAL FEATURES :

This Code 3 DVD does not contain any special features.
AUDIO/VISUAL: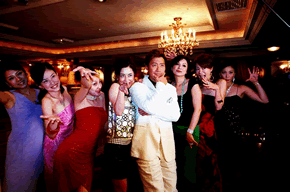 Surprisingly for an ordinary movie, viewers have a choice of the usual Dolby Digital stereo, or 5.1. The quick cuts, special effects enhanced scenes still look
stunning though.
MOVIE RATING:



DVD RATING :

Review by Stefan Shih