It seems, at least for now, that the Weinsteins have heeded that advice. "I've got their undivided attention," said Quentin Tarantino, director of arguably The Weinstein Company's first bona-fide hit. "They want 'Inglourious Basterds' to be a hit even more than I want it to be a hit. In the grand scheme of things, it's more important to them than me."

Tarantino's US$70-million budgeted Nazi-caper already has an impressive worldwide haul of US$179 million but that doesn't mean the Weinsteins' financial woes are over. As the movie was a joint venture with Universal Pictures, it remains to see how much the Weinsteins stand to gain eventually. Indeed, they still need to make good on a slate of roughly 10 titles in the upcoming months and prove they have what it takes to regain their footing in the movie business.

"I'm going to do just this and nothing else," said Harvey. We take a daredevil prediction at how likely that chutzpah and his make-or-break slate are likely to turn his fortunes around: -

INGLORIOUS BASTERDS (Opens 17 September 2009)

The Plot: An American-led killing squad known as "The Basterds" terrorize the Nazis in German-occupied France during World War II.

Box Office Potential: Very Good. Quentin Tarantino's eclectic and gory war epic had a fantastic US$37.6 opening weekend stateside, followed by strong holdovers over the next few weekends thanks to excellent reviews (87% "Fresh" on Rottentomatoes.com) and strong word-of-mouth. Its worldwide tally now stands at an impressive US$172 million, ranking as Tarantino's best behind Pulp Fiction. Looking at how the numbers are taking shape, this will very likely shape up to be Tarantino's box office best, and an overall US$300 million doesn't seem out of reach.
HALLOWEEN II (ETA 22 October 2009)
The Plot: Picking up after the events of the first film, Michael returns to Haddonfield, Illinois, for a family reunion with his sister, Laurie Strode, on the anniversary of his self-orchestrated massacre.

Box Office Potential: Mediocre. Halloween II opened on the same weekend as "The Final Destination" and it's no surprise which came out tops. That said, Halloween II's US$17.4 million opening weekend fell well short of its predecessor which opened to the tune of US$26.4 million back in 2007. Its precipitous 65% fall over its sophomore weekend also doesn't bode well for its long-term box office potential. But bearing in mind it was made at a relatively cheap US$15 million, this should still reap a tidy profit for the Weinsteins at the end of its run.
YOUTH IN REVOLT (ETA 12 November 2009)
The Plot: The coming to age story of a boy, Nick Twisp, who transforms from a normal teenager into a youth in open revolt in an attempt to win the heart of a girl.

Box Office Potential: Poor. "Juno" was a breakout hit for Michael Cera, the Canadian actor known for portraying shy characters with their insecurities. Cera followed this with "Nick and Norah's Infinite Playlist" which tanked at the box office when it was released. His role in "Youth in Revolt" appears to be a rehash of his previous two, and judging from the film's trailer, this film doesn't have the intelligence nor the sensitivity of "Juno" to become a box-office hit for Cera. Most likely to wind up with the same fate as Cera's "Nick and Norah".
SHANGHAI (Undated)
The Plot: A '40s period piece about an American expat (John Cusack) who returns to Shanghai in the months before Pearl Harbour due to the death of his friend.

Box Office Potential: Poor. The movie was supposed to be shot in China before the local authorities decided to pull the plug. So director Mikael Hafstrom filmed this in Bangkok instead. Like several of their recent box-office failures, the Weinsteins are sitting on this one for now, without setting a firm release date yet (all we know is this is likely to come out only in 2010). Stateside box office will depend a lot on good word-of-mouth but Hafstrom and writer Hossein Amini have not had good track records for that. The star power of Chow Yun-Fat and Gong Li may draw Asian audiences but it won't be enough to give "Shanghai" much box-office legs. Look for this to have an unfortunate dismal end.
NINE (ETA 14 Jan 2010)
The Plot: The musical retelling of Federico Fellini's semi-autobiographical "8 and a half", "Nine" is the story of world famous film director Guido Contini (Daniel Day-Lewis) as he confronts an epic mid-life crisis with both creative and personal problems, i.e. the many women of his life, including his wife (Marion Cotillard), his mistress (Penelope Cruz), his film star muse (Nicole Kidman), his confidant and costume designer (Judi Dench), an American fashion journalist (Kate Hudson), the whore from his youth (Fergie) and his mother (Sophia Loren).

Box Office Potential: Very Good. Everything about this movie screams Oscar. Of course, it's pretty obvious the Weinsteins are out to replicate the success of their 2002 musical "Chicago" but guess what- they have a very good chance of succeeding. Test screenings have indicated that "Chicago" director Rob Marshall has a much more confident and assured hand here, and there is already Oscar buzz for best picture, best actor (Daniel Day-Lewis), best actress (Nicole Kidman) and best supporting actresses (Judi Dench, Marion Cotillard, Penelope Cruz). The sheer star power of this should draw the crowds in opening weekend and its Oscar nominations should lend it great momentum at the box-office come awards season.
THE ROAD (Undated)
The Plot: The journey of a father and son trying to survive as they walk for months across a ravaged, post-apocalyptic landscape in search of civilization.

Box Office Potential: Mediocre. The Weinstein Company pushed its release date in the U.S. back by a month, presumably to build up good word-of-mouth that the film has been accumulating since its debuts at the Telluride and Venice Film Festival. Readers of Cormac McCarthy's book will no doubt flock to this adaptation, as will the star power of Viggo Mortensen and Charlize Theron draw in some curious viewers. But this very bleak and sombre post-apocalyptic tale is really better art house fare than commercial material- though some nods come Oscar season could boost its box-office numbers.
If You Missed Page One of "The Weinstein Company Going Downhill?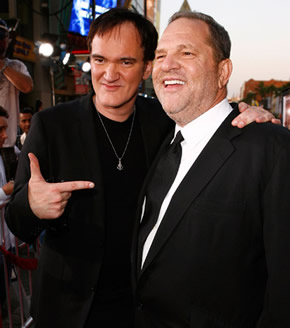 Quentin Taratino with Harvey Weinstein at the premiere of "Inglorious Basterds"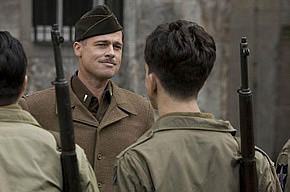 Brad Pitt opts for the Nazi killin' business in "Inglorious Basterds"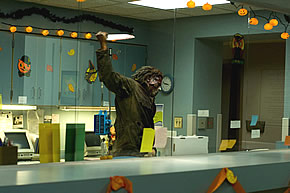 You can run. You can hide. Or, you can fight in Halloween II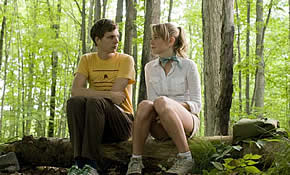 Every "Revolution" Needs A Leader perhaps not Michael Cera
Eastwood in one of his spaghetti westerns
h
Ba
d T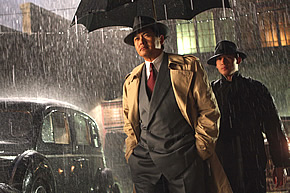 e
The long delayed "Shanghai"
Eastwood just love making this 'hand-sign'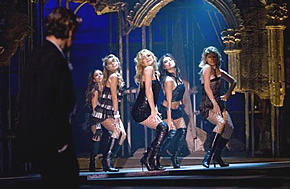 "Chicago" returns in the form of "Nine"
Eastwood just love making this 'hand-sign'
Winning the Oscars at th 77Actwood stars and directs the a-winning "Million Dar Baby"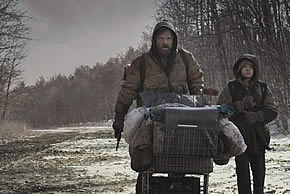 "The Road" starring Academy Award nominee Viggo Mortensen, Academy Award winners Robert Duvall and Charlize Theron


The Weinstein Company/Dimension titles on DVD: