Good Comedy Needs Hard Work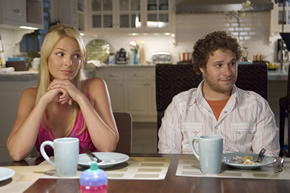 Any obsession demands time and effort- and so it is with all of Apatow's works. Whether as producer, writer or director, Apatow personally supervises the projects through all stages of development. As a producer in particular, he is known to show up on a set at the beginning and the end and on days when emotional scenes are being shot- just so he can make sure that the laughs don't dwarf the character nuances.
Another of his idiosyncratic quality control processes is called the "table read"- practiced more for TV than for film- where he gets actors to sit around a table, read the script out loud and invites a host of friends to critique.
In the case of "Knocked Up", the perfectionist repeated the process five times. "Some of these readings are like reunions," said Paul Rudd, a friend of Apatow's whom he cast in "Knocked Up". "But it's also intimidating when you have Garry Shandling sitting right across from you."
Apatow is well known in Hollywood for the way he works- writing his own material, developing his scripts with an intimate group, and then casting from an equally small coterie. If he does direct what he writes, you can also be sure there's going to be a great deal of improvisation on set.
And when the movie is complete, he takes a rough 3-hour cut, screens it to 50 or 60 of his friends and friends of friends, and then takes notes from everyone. "I try to have a very open process," he said. "A lot of people in Hollywood are obsessed with keeping their scripts a secret and put secret watermarks on them. I just go the opposite way."
The Apatow Touch

Unlike the typical expensive Hollywood star-driven comedies, Apatow's projects have generally been cheap by Hollywood standards (between $20 million and $35 million per movie) and hence relatively stress free for his Apatow Productions and the studios. "I'm not asking for $200 million to make these movies. You could make 11 of these for the cost of one summer movie."
Donna Langley, president of production at Universal, said in an interview with the Los Angeles Times: "He's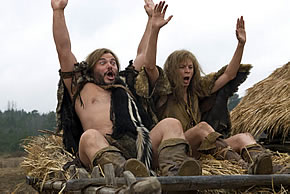 provided a really efficient business model for himself and the studio. Most of his movies are high-concept ideas, well-executed, and he also has the ability to break talent. Having him put Seth Rogen in two movies- he's created another viable comedy star. It's the same with Steve Carell."
His latest- "Funny People"- marks a pricey and unusual departure for him. It costs $75 million to make and tackles more serious themes that may not go down well with his regular audience looking for "Superbad"-type fun. Although the film opened atop the U.S. box office with US$22.6 million, it was widely considered to have underperformed- considering "Knocked Up's" $30.7 million opening. ("Funny People" is expected to be his worst-performing movie).
Still, in the wake of the less-stellar results of "Funny People", Apatow's star in Hollywood hasn't quite dimmed at all. As Underground Management's Trevor Engleson, who represents a number of comedy clients, puts it in an interview with the Vancouver Sun: "If I were his manager, I wouldn't tell him to change anything. The town is going to let him continue making the movies he wants to make."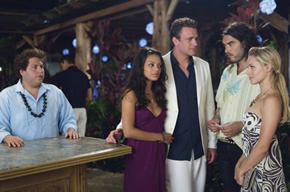 Next up from the Apatow slate is the music comedy "Get Him to the Greek", a spinoff from Russell Brand's rock star character in "Forgetting Sarah Marshall" that reunites Jason Segel and Nicholas Stoller as writer and director respectively. Some regard it as a step back to the more high-concept material of Apatow Productions, who has had some mixed results with its slate over the past 18 months (especially with "Year One" and "Drillbit Taylor").

Considering how that tried-and-tested formula has led to the unique and much-copied "bromance" template, and launched a young group of unknown actors (Steve Carell, Seth Rogen, Jonah Hill) into the A-list, you can be sure that Apatow's Midas touch of box-office gold is still and will still very much alive in Hollywood.
If You Missed Part One of The Apatow Touch >

Judd Apatow's third directorial effort, FUNNY PEOPLE Opens 24 September 2009
Other Apatow Productions You Might Be Interested to Check out on DVD >
Forgetting Sarah Marshall | Drillbit Taylor | Knocked Up | Step Brothers | Anchorman: The Legend of Ron Burgundy