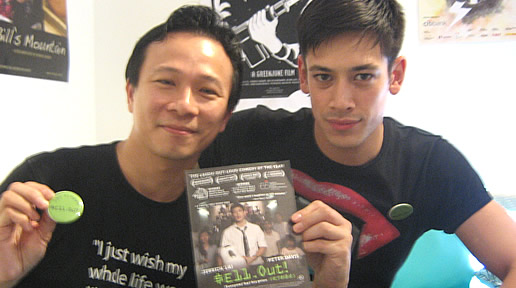 Lucky Peter Davis. One and a half years ago, the good looking 27 year old was spotted by filmmaker Yeo Joon Han in a Kuala Lumpur carpark and now, he's the leading man of a feature film. And to make things a little more interesting, he gets to show off his vocals in this musical movie.
"I can't sing for s***," laughs the charismatic actor during an interview with movieXclusive.com. Davis and Yeo were in Singapore to promote the film Sell Out!, which is competing in the Asian Feature Film Competition of the 22nd Singapore International Film Festival's Silver Screen Awards.
The son of an English father and a Malaysian mother, Davis tells us that he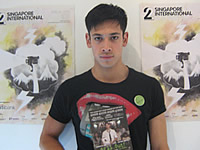 began his career in the finance industry, and no thanks to the recession, he took up some modelling jobs and while sourcing for a cheap car in Kuala Lumpur that fateful day in 2007, he was approached by Yeo, who wanted to cast him as the hero in his debut feature.
"But I've always wanted to be a Hong Kong action movie star," he sighs cheekily.
With his strong Southern English accent, he says: "I've never thought that I would hear myself sing. It took a lot of effort, and now I can happily say that there's another I can tick off on the list of things I want to do in life."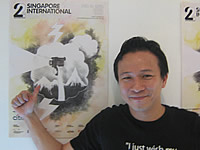 Thirty nine year old Yeo is a lucky man too. He was a lawyer turned copywriter who gave up his well paying job ten years ago to become a fulltime filmmaker.
Was it a wrong move? Not exactly, because the chatty filmmaker who hails from Seremban went on to make his first short film Adults Only in 2001. It was produced on 35mm format and shortlisted for the 63rd Venice Film Festival, making Yeo the first every Malaysian director to compete in the festival and receiving a Special Mention for it.
Up next was this feature film funded by Astro Shaw, a leading Malaysian film production company. And it is through working with this media conglomerate company that Yeo realised that he is indeed a lucky filmmaker.
"At first, I thought that I had to play it safe since it's such a heavy investment from Astro Shaw. To my surprise, they told me to keep pushing the envelopes and let the censorship folks do their job.
"And I didn't face any problems from the censorship board," Yeo says proudly.
His initial concerns are valid, considering that the film deals with Malaysia's capitalistic aspects and exaggerates them to ridiculous proportions. The musical approach pokes fun at the evils of capitalism and the pretensions of art, which makes this parody engagingly enjoyable for audiences. In fact, the film has gotten quite a bit of international attention, having travelled to over 15 film festivals like Pusan International Film Festival and Vancouver International Film Festival. To add to the accolades, it also clinched the NETPAC Award at Taipei's Golden Horse Film Festival in 2008 and the Young Cinema Award for Alternative Vision at the Venice Film Festival.
Yeo continues to tell us how he felt when he had to find the balance between personal artistic satisfaction and business commercial concerns while making the film.
"There's always this struggle for me. What's pretentious? What's real?"
And the result is a hilarious opening scene where the female protagonist, a self absorbed TV host (played by Malaysian theatre actress Jerrica Lai) interviews a self absorbed filmmaker by the name of, surprise, surprise, Yeo Joon Han.
Yeo chuckles while describing that memorable scene: "I think it's important to entertain people in this day and age. I enjoy hearing the sound of laughter.
While there is so much suffering around us, why don't we have a few more happy faces to perk things up?" "
- By John Li