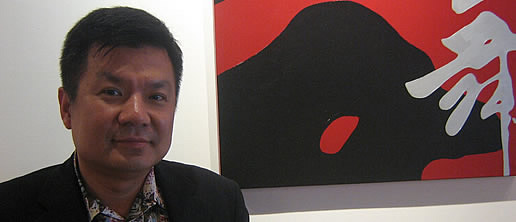 Food and shopping. These are the two things which make Indonesian director-actress Lola Amaria really happy whenever she visits Singapore. And she definitely feel like a foreigner whenever she comes to the Lion City.
Recently in town to promote "Sincerely Yours", the opening film at the 22nd Singapore International Film Festival (SIFF), she tells movieXclusive.com that this is her umpteenth time visiting our sunny island, and the eating and shopping here never fail to make her trip worthwhile.
Dressed in a clean cut black top, she tells us: "I'm a foodie and a shopaholic. And that makes Singapore a must visit whenever I'm on holiday."
Judging by the 32 year old's petite figure, you would never have guessed that she enjoys gorging on food. Gleefully, she recalls her days in Taiwan during the production of the film: "Because the weather was cold, I would be eating non stop. The fritters and the bean curd were the most delicious!"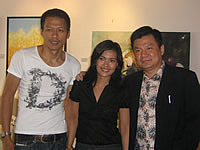 In the film, Amaria plays Setia, a sweet and shy girl from Java, who is forced by circumstances back home to build a new life for herself in Taiwan by working as an illegal immigrant worker. She falls in love with Supayong, another illegal immigrant worker (played by Tropical Malady's Banlop Lomnoi).
Pointing to the Thai actor, Amaria says: "He is a really funny guy and always makes me laugh although he doesn't speak English." When we turn to look at Lomnoi who was sitting at a nearby table, he gives a cheeky expression which made us chuckle.
The two actors share some intimate scenes in the film. Amaria reveals: "Before those scenes, we spent a lot of time together going for dinner and walking around Taiwan. I thought I was all ready to shoot that scene, but when the director told us to take our clothes off and get into bed, I suddenly felt very scared.
"But Banlop was really nice and gave me the confidence and comfort I needed. We finished the scenes in 10 takes."
The film opened windows for Amaria because she now understands how foreign workers feel when they are trying to survive overseas.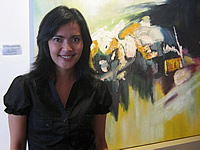 "It's not as depressing and scary as I thought. I've talked to a number of them while researching for the role and I realise that they are very strong people. In fact, I feel their determination to feel happy despite the circumstance they are in."
And it is this life force which newcomer director Rich Lee wishes to explore in the film, which had its International Premiere at this year's SIFF.
He tells us in a separate interview how his own experiences were the inspirations for the film. He remembers how he was separated from his father during his younger days, when he went to Chicago to work.
"It was like a forced separation," he states solemnly.
Lee's debut feature deals with these foreign labourers, and he tells us how the whole situation in Taiwan during the late 1990s is a social metaphor for the state of things today.
Having spent five years to conceptualisation to completion of the film, Lee finds himself falling in love with everybody who is involved in the SIFF Silver Screen Awards nominated picture. With obvious elation in his voice, he says: "I love these people. I feel the way they feel."
He also tells us: "I was afraid at first because I was working with a professional crew. How would a first time director like me deal with them? But everything worked out nicely once we started working on set."
What does Lee hope viewers will walk away with after watching the film?
"I hope it gets people thinking about how humans are created equally, regardless of political situations and sexual orientations.
And with conviction, he completes his sentence: "No human being should feel inferior to another fellow human being."
- By John Li