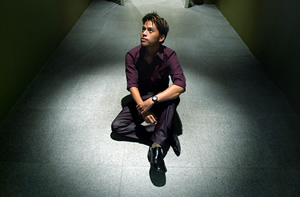 What is it like to make your first feature film and having it represented at this year's SIFF? How did Eric Khoo and MDA come into the picture?
It's been incredibly exciting because I've been wanting to show this film to local audience. The film had its premiere in Bangkok International Film Festival last year, and it's European premiere in Berlin's Asian Hot Shots where it won 2nd Prize, so it's now showing to its rightful audience. Eric Khoo was actually the one who spearheaded the whole project, he approached me 2 years back to create a film, and since I've never directed a feature film before, I thought, why not? He then approached Mr Man Shu Sum, who was still in MDA then, whether they would like to fund the film, and the rest was history.

Talk about the production of the film?
The film was shot in 2 weeks, and I had a wonderful cast and crew. My DOP was Sharon Loh, Singapore's only female DOP, who is extremely talented and funny. She amused me constantly, and so the shoot was never boring or tense. My Assistant Directors were interns from film school, and they were wonderful as well. They never said no to any of my requests, which I had many because I like to add things the last minute.

What were the easiest/ most difficult/ most memorable about making this film?
The easiest was the filming… everything went very smoothly, and my producer, Gary Goh, who produced most of Royston's films, was extremely happy because I shot within schedule and budget. Then again, it was really because Gary planned everything so well in advance and he whipped the team (including me) into shape in no time at all.
The most difficult was actually censorship, not that MDA was clamping me down, in fact they gave me a lot of freedom. The air stewardess character in my film was supposed to be a Singapore Airlines girl, and in the opening scene, she was supposed to be in the kebaya… however the PR department of SIA, somehow saw the character study video that was floating around and freaked out because they thought I was attacking their corporate image, which was of course not the case, since as an artist, I was more concerned about showing local icons more than anything else, so that the character is easily recognisable, and hence more accessible, to the audience. In the end, I had to re-design the character and I came up with my own airlines called Merlion Air, and I even have a TV jingle in the film for it written by Kevin Mathews. Now SIA is so frightened of me that they even refused to let me film on any of their premises for National Day Parade, which I'm making videos for this year because I'm the Director of Film/Visual Effects, which is such a shame because I absolutely love flying on SIA and have no qualms in showing them in a good light, and I do still harbour the secret desire of my film being screened on their in-flight Kris World entertainment system.
How was the experience like working with so many actors on the different storylines? How has it been a life-changing experience?
It wasn't as difficult as I thought, because the actors were all so professional and open to ideas. It helped that their natural personalities suited their roles a lot, except Karen Tan who isn't as fierce as the mother she plays, so yes, good casting is 50% of the work. It was life-changing because some of the scenes were so raw in emotion, and I'm not really used to that because most of my works are pretty detached and cool… the scene where Karen beats up her son was really traumatic for me, and it took me a few minutes to regain my composure before I could prepare for the next take. It also made me realise that how abusive most Singaporean parents are towards their children.
You have had training in fine arts, multimedia and animation. How has that helped you in Invisible Children? If given a choice, would you have taken a different path?
It has helped me a lot. I think all film directors should try different art forms before they start directing films, because you become more aware and sensitive of different skills that are required in making moving images. Like for example, if you learn animation, you become very sensitive to movement and timing, and also you can visualise how a scene might look in your head better because of all the storyboard training you might have had. And if you do fine arts or architecture, you become aware of space, how buildings affect and shape our experience of life. I consider myself extremely fortunate to have the training I had and would not have taken a different route if given the chance.

What directions are Singapore films moving towards?
I think it's an exciting time for Singapore films, there are so many different young filmmakers, and they are becoming more and more sophisticated both as an audience and as creators. It's a very good sign.

What are your upcoming projects?
I'm doing National Day Parade this year, so that's taking up the bulk of my time, especially when I'm trying to convince the committee to accept my strange and different work. I'm also doing an art exhibition in July at Sculpture Square as well as a few theatre projects with a few people in the theatre scene. And yes, I'm working on a new feature although I can't really say anything much about it except that it will be quite different from my first film.

What advice do you have for all budding local filmmakers out there?
I think it's important to have the necessary skills to stand out from the crowd, but what's more important is what your personal take is on the world. Don't wait for funding all the time to create works… it's so easy and cheap these days to shoot stuff when you can grab decent footage with a HDV camera and edit it in your laptop. Always listen, watch and learn from others, but always remember to express what you think is important, what you feel is important. Good ideas are always welcomed everywhere.

What is it you are trying to convey with Invisible Children? Where did that inspiration come from?
Although Invisible Children looks very much like a melodrama, it is a very political film. One of the main question I had was what do you do in a society that both nurtures and kills you at the same time? But my strategy is to use humour and kindness in exploring this issue. I think gentleness can be very subversive in a society that is very materialistic and coldly intellectual.
What do you hope audiences take away upon leaving the theatre?
I hope that can be more aware of the system that they are in, and that not only are we part of it, but we also contribute and maintain it, whether we are passive or active individuals. I believe that my film has a lot of hope, and that is the most important thing I want my audience to leave with.
Could I also check how I should credit your day job, as well as your age?
I'm a full-time film director with Zhao Wei Films and a multimedia artist. I'm 28 years old.
- By John Li