You'd think that the writer is lazy when he decides to ask three Singapore directors to interview each other so that he can concentrate on jotting down their responses. Instead of coming up with questions to ask these three creative local filmmakers, he got them to ask each other things they wanted to know about each other instead.

There is a fine line between being ingenious and idle about your work, but do give the writer some credit for arranging this interview with Han Yew Kwang, Kan Lume and Sun Koh, whose latest works are being featured in the Singapore Panorama section at the 21st Singapore International Film Festival (SIFF).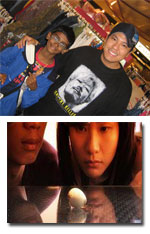 After winning Best Short Film at the 15th SIFF, Han's feature film 18 Grams of Love will be shown at this year's edition of the festival. He is interested to find out what kind of commercial movies his fellow filmmakers will make if they had the chance.
Kan, whose Dreams from the Third World is being shown at the festival, has an immediate reply: "There are two commercial movies which I have always wanted to make. The first one is something along the lines of I Not Stupid and Dead Poets Society, where we follow a group of losers from their Secondary One to Secondary Four days in school.
"The second one is a splatter film where we see violence and dark comedy come together in a triad movie that takes place in Hong Kong, Singapore, Taiwan and Malaysia. Everything is in the name of fun, because we should learn not to take things too seriously," he laughs.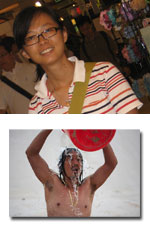 Koh's ideal commercial movie is something that isn't too far-fetched: "it's about the human condition, and most importantly, the terms and conditions for making a commercial movie must be right because I don't want to get exploited." Together with six other directors like K Rajagopal, Chew Tze Chuan and Ho Tzu Nyen, their film movement that resulted in a feature titled Lucky 7 will be shown at the festival.
When it came to Kan's turn to lead the discussion, he took the opportunity to commend Han and Koh's professionalism and honesty in their works despite the struggles they have to bear with in the local industry.
Referring to Han's breakout comedy Unarmed Combat (2006), Kan commented: "It's got tremendous potential, and it definitely sets things in context. The director should feel very encouraged."
When Kan asks Koh about her experiences as a local filmmaker, she dishes her views about how a Singapore filmmaker should survive.
"When you feel that you are not growing anymore, move on. Because of legislations and unfilled roles, you may suffer initially. But once you sense that you are not growing anymore, move on and do not be confused by what you are supposed to learn and what you are supposed to earn," she says firmly.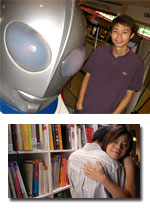 The writer-director has this to ask of her male counterparts at the interview: What have they always wanted to do and what has been stopping them from achieving this goal?
Kan's dream is to make an internationally distributed movie and let the results speak. He will then come back to Singapore and do something about the industry here. However, he feels that he has not learnt enough to embark on that path.
"I'm at a crossroad where I don't know whether I should continue my studies in filmmaking because there is so much I don't know about."
Han, on the other hand, wishes to direct himself in a movie where an underdog character gets his love at the end of the day. He wishes to act alongside Chinese actress Xu Jinglei, who is also a director herself. At this point in time, he does not see himself doing it because he envisions a costly figure of $250,000 to make this movie.
He says with a sudden burst of energy: "I want to make it look really good!"
And after one-odd hour of chatting with each other about their visions and outlooks in filmmaking, the three directors got to know each other better, and phew, the writer managed to accomplish yet another assignment.- By John Li