You know it is well worth the wait when you see three of Singapore's prolific filmmakers come together for this interview. You see, this interview almost did not happen due to prior commitments, clash of schedules, and well, apologetically, the writer's own procrastination. But when you hear the three local talents enthusiastically talk about their latest works and personal visions, you are glad that the interview materialized after almost a month of planning.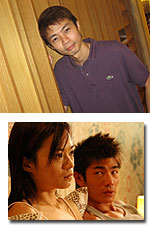 On this weekend morning, movieXclusive.com got Han Yew Kwang, Kan Lume and Sun Koh to meet at a coffee joint to chat about their films which will be part of the Singapore Panorama at the 21st Singapore International Film Festival (SIFF).
What was meant as a project submitted for Media Development Authority's (MDA) trial High Definition (HD) channel became 18 Grams of Love, a feature film that 33-year-old Han submitted for the film festival.
"It was meant as part of a trilogy, but because of resources shortage, everything came together in this film," says Han earnestly. Shot in 11 days, the film's story centers on two couples, and is an ironic and bittersweet take on modern relationships in a postmodern world.
"The story is something I hold close to heart," adds the lanky filmmaker.
He also remembers the intensive shoot which a professional crew worked entirely in an environment-controlled warehouse. He had told them that they had no budget to pay them overtime, but they could choose to go off if the shoot over-ran.
"Maybe they felt embarrassed after I told them this, that's why all of them were willing to work overtime for this film," Han says with a laugh.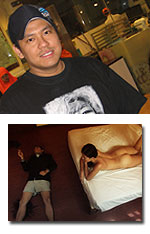 Kan's third feature film Dream from the Third World was almost unmade. The 33-year-old had to make a choice whether to continue making the film after an established actress pulled out of the project last October. He recalls: "I almost had a complete crew complete with a production designer and all, but I had to let all of them go. So the decision was to give up or continue with whatever little resources I had left."
Working with a two-man team, Kan pushed on and made the film about a man who tries to make a porn movie, and goes in search for answers before discovering it in an unexpected place.
When asked whether he is satisfied with the end product, he humbly says: ""It's just different knowing it could have been so much more."
And in an interesting film movement, 31-year-old Koh made Lucky 7 with six other local filmmakers like Boo Junfeng, Brian Gothong Tan and Tania Sng. Each of them attempts a 10-odd-minute segment of a feature film continued by the next filmmaker who knows only what took place in the last minute of the previous segment.
The bespectacled writer-director says proudly: "We just wanted to get everyone together and create an experiment which will push the Singapore cinematic boundary."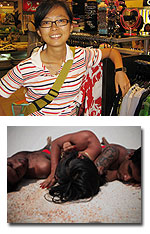 Koh admits that it was initially difficult for so many filmmakers to work together on one project, and keeping everyone on the same vision was difficult because it was easy to lose track of the objectives of the movement. Thankfully, each one of them had an honest voice and was ready for such collaboration.
"The only thing we had to prevent was not to break so many things to minimize our losses," she chuckles good-naturedly.
The three filmmakers were also asked about what they think the Singapore film industry will be like 10 years down the road.
Naming the SIFF as one of the influences which made him the filmmaker he is today, Han hopes that the widening gap between commercial and art films will find a middle ground in the near future.
He states: "Look at films like Shall We Dance, Amelie and Thank You for Smoking. They are high budgeted independent films. They have their own signature styles and also have audience support."
Kan, who reveals to the rest present at the interview that one of the reasons why he took up a filmmaking degree was to marry his wife, has a more daring vision of the future: "The world has its eyes on Southeast Asian films now. There is this beauty in poverty which is appealing to many people, but it may become passé to be a filmmaker in 10 years' time.
"Commerce will destroy the art, and although there will be more jobs and unions, Singapore will be leveraging on co-productions to showcase the multi-racialism of the country."
Koh, who has worked in the local television industry for a number of years, sums up the discussion by noting: "Film reflects a society's culture and maturity. It is immortalized in sight and sound.
"It is very important to stay honest and not be delusional by focusing on the wrong things. We must make films with heart." - By John Li