Truc "Charlie" Nguyen may be taking a break, but there is always something on his mind.

"My mind is always on film, even though I many be on holiday or taking a break from work," the 39-year-old tells movieXclusive.com over the phone from his hotel room recently.

"I'm always thinking about collaborations with others on how to make films. Wherever I go, I see things and I think about how they can be part of a film."

The Vietnamese American film producer, director, screen writer and martial arts action director was in Singapore to promote his film The Rebel, which was showcased at the 21st Singapore International Film Festival as part of the "55 Years of Vietnam Film section. Nguyen's third feature was a big local hit in his home country, winning the Best Audience Choice Award at the 2007 Vietnamese International Film Festival. It is also the most expensive Vietnamese film to date. The action genre film is inspired by the stories his grandfather told him when he was growing up.

"My grandfather had all this life stories about guerilla warfare, and I guess they have all been embedded into my subconscious," says the Saigon-born Nguyen.
He remembers being influenced and stirred by the old Shaw Brothers action movies from Hong Kong when he was 17 years old. Together with his brother, they would practice martial arts and make short films of that genre.
"We made short little films, edit them and put them together to show our friends," chuckles the chatty filmmaker.
The SIFF's selection of Vietnamese films aims to promote appreciation and research of Vietnamese cinema to as wide an audience as possible. Nguyen feels that there is sign of a progressing film industry in Vietnam: "In the past 20 to 30 years, due to economy and censorship issues, there isn't really a film industry so to speak. But in the past few years, there is support from the government and there are more opportunities and freedom to tell stories.
"And it's definitely more encouraging for Vietnamese filmmakers to return home to make films now," he adds.
Having attended the University of California Los Angeles film extension program, Nguyen suggests that there should be more support from Asian audiences to attain a thriving Asian filmmaking scene.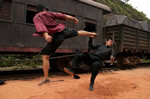 "The key issue is to build an Asian audience fan base. Regardless of borders, there should be unity and markets for Asian filmmakers to showcase their works," states the Vietnamese Diaspora, whose latest film has been picked up for distribution by The Weinstein Company.
When asked about his impression of Singapore, Nguyen, who has been here once, has this to say: "If I were a girl, I'd definitely feel very safe and secure. Your country feels kind hearted and gentle in many ways." - By John Li