The year after, JC teamed up with his 'big brother' Sammo Hung and returned as a TV chef in "Mr. Nice Guy". Shot entirely in Melbourne and featuring an English-speaking Jackie Chan, the movie was yet another resounding success for him. Its success outside the Asian market was also an affirmation of his increasing popularity in Hollywood.
But JC showed no signs of slowing down, returning in 1998 to play an amnesiac agent on a journey to discover the truth behind his injury and his undercover mission in Benny Chan's "Who Am I?". The next year, JC took an unusual step by starring as a successful rich entrepreneur in the romantic comedy "Gorgeous" with the sultry Shu Qi. The movie which also featured Tony Leung Chiu-Wai in a comedic gay role wasn't as big a hit as his earlier action movies, but it signified his reluctance to go back to his all-out action roots in between juggling the success of his first major Hollywood production, Rush Hour and his Asian titles.
By the end of the '90s, state-of-the-art multiplexes had established a foothold in the cinema market. The days of grouchy aunties scribbling seat numbers on your flimsy cinema ticket was near its shelf-life, and by then JC releases could be found in most major cinemas, in fact all. But still, when it came to his CNY offerings, almost every hall was packed to capacity.
After a decade of hits, JC went missing from the CNY movie scene in the year 2000. There were some who attributed it to his much publicized sex scandal with a TV actress but the official word was that JC was tied up filming his second Hollywood outing, Shanghai Noon. He bounced back the year after with Teddy Chan's The Accidental Spy. Shot partially in exotic Istanbul, this action spy thriller had a much more layered plot (courtesy of acclaimed screenwriter Ivy Ho) than the usual JC outing. Sadly, that also marked the last official JC movie produced and released by the now-defunct production arm of Golden Harvest.

2003 was the last year since that JC greeted us during the CNY in the cinemas. That year saw the release of the sequel to his successful Hollywood foray, Shanghai Knights, starring Owen Wilson and our local TV starlet, Fann Wong. It was also surprisingly one of his better Hollywood efforts, containing his trademark humour and breathtaking action sequences including a notably engaging swordfight with Donnie Yen.
As a new decade dawns, JC has decided to ring in the Year of the Tiger with a tradition he left off eight years ago. On 11 February 2010, JC will once again grace us with his much-loved CNY greeting- a good ol' action flick called "Little Big Soldier" co-starring pop singer Wong Lee-Hom.
Does JC still have what it takes to be the action hero we've grown to love and enjoy in the movies? We simply can't wait. Bring on the steamboat, the angpows (of course) and give us a ticket to Little Big Soldier! Just minus the tiring house visits if possible.

If You Missed Part One of Jackie Chan's Chinese New Year Kung Pow!
Little Big Soldier opens on 11 February 2010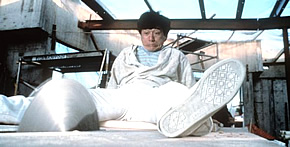 Mr Nice Guy (1997)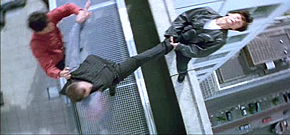 Who Am I? (1998)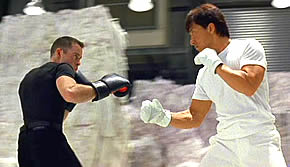 Gorgeous (1999)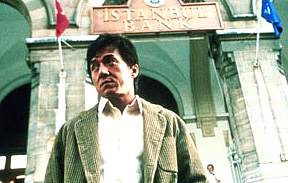 The Accidental Spy (2001)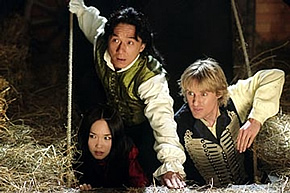 Shanghai Knights (2003)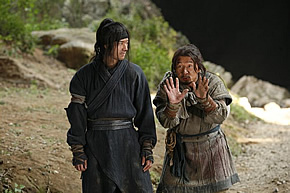 Little Big Soldier (2010)