Sylvester Stallone

The smash hit Rocky (1976) catapulted Sylvester Stallone into the A-list. Inspired by the Muhammad Ali- Chuck Wepner fight, Stallone wrote the script for the film in just three days. Rocky was embraced by both audiences and critics alike, and won the Oscar for Best Picture, Best Director and Best Film Editing. The inevitable sequel Rocky II (1979) followed whose box-office success further cemented his position in Hollywood. Rocky III (1982) followed three years later, but that year was more significant for the debut of Stallone's other franchise, John Rambo, in the action-war movie First Blood (1982).

Stallone would continue to make two more Rambo films and two more Rocky movies in the 1980s and 1990, with each film less successful than the last. Rocky IV (1985) however was notable for the climactic fight between Sly and Russian boxer Ivan Drago as played by Dolph Lundgren and is widely regarded as the movie that launched Lundgren's career.

The 1990s saw the decline of his popularity- Cliffhanger (1993) the most successful among others such as modest hits Demolition Man (1994) and The Specialist (1994), and outright bombs like Judge Dredd (1995) and Daylight (1996). However, he did receive praise from critics for acting against type as the overweight and slightly dull sheriff in James Mangold's Cop Land (1997)- though the film's box office reception was cold to say the least.

A string of disappointments followed in the 2000s before his renaissance began with "Rocky Balboa" and "Rambo IV". The successes of both films fuelled speculation that Stallone was going to make yet another Rocky and Rambo film. Sly has stated categorically that he will not return to play Rocky, though the future on a fifth Rambo film is less certain. The success of The Expendables (2010) has led Stallone to announce plans for a sequel and put Rambo V on hold indefinitely. If The Expendables 2 flops, Sly could very well return to John Rambo once more.
Arnold Schwarzenegger
Schwarzenegger's breakthrough hit was Conan the Barbarian (1982), which followed two years later with a less successful sequel Conan the Destroyer (1984). But then it didn't really matter- because 1984 was also the year Schwarzenegger became The Terminator (1984), James Cameron's science-fiction thriller which gave the star arguably the signature role of his career.

Schwarzenegger had a great run in the latter half of the 1980s, producing hit after hit like Commando (1985), Raw Deal (1986), Predator (1987) and Red Heat (1988). His career high came in 1991 with his reprisal of his trademark character in the sequel Terminator 2: Judgment Day (1991)- though the success of another sci-fi thriller, Paul Verhoeven's Total Recall (1990) a year earlier probably had something to do with it as well.

Besides doing action movies, Schwarzenegger took a brave leap into comedy in Ivan Reitman's Twins (1988). The unexpected success of that film led him to reteam with Reitman on the comedies Kindergarten Cop (1990) and Junior (1994). The last film however continued his declining success in the comedy genre that began a year earlier with The Last Action Hero (1993).

Even on the action front, Schwarzenegger's star started fading after the James Cameron spy thriller True Lies (1994), perhaps his last bona fide hit. Eraser (1996), Batman and Robin (1997), End of Days (1999), The 6th Day (2000) and Collateral Damage (2002) were disappointing at the box-office and Schwarzenegger made his last lead role appearance appropriately in 2003 with Terminator 3: Rise of the Machines.

Today the Governor of California has his mind set on political ambitions than his movie career, appearing only briefly in cameos for films like The Rundown (2003) and Around the World in 80 Days (2004). Will he ever return to the big screen as a leading action hero? Our guess is not.

Bruce Willis

Bruce Willis became an overnight star with Die Hard (1988) as Detective John McClane. He followed up that unexpected success with another successful sequel Die Hard 2 (1990). Yet his rising star hit a snag with a string of flops like Bonfire of the Vanities (1990), Hudson Hawk (1991) and Striking Distance (1993).

Thankfully, his career revived with a supporting role in Quentin Tarantino's Pulp Fiction (1994) and he parlayed his newfound success to good effect with modest hits Twelve Monkeys (1995) and The Fifth Element (1997). His tumultuous career continued with flops like The Jackal (1997) and Mercury Rising (1998), as well as hits like Armageddon (1998) and M. Night Shyamalan's The Sixth Sense (1999).

The 2000s were also hit-or-miss affairs for Willis- his reteaming with Shyamalan Unbreakable (2000) did well, his mafia comedy The Whole Nine Yards (2000) a modest hit good enough to warrant a sequel that flopped, while others like Bandits (2001), Hart's War (2002), Tears of the Sun (2003) and Hostage (2005) tanked. He made a brief career revival reprising John McClane in Die Hard 4.0 (2007) but subsequent action movies like Surrogates (2009) or action comedies like Cop Out (2010) were much less successful.

Though he has at best one iconic character to his name, Willis has more projects than both Sly and Schwarzenegger. He will next be seen in Red (2010) based on the comic book mini-series of the same name, and also in the movie adaptation of the video game Kane and Lynch: Dead Men (2011). It's hard to predict whether his upcoming movies will be successful, given his uneven track record, but at the very least, Willis is already lined up for the fifth instalment of the Die Hard series due 2011.

Jean-Claude Van Damme

Van Damme is most commonly known as the Muscles from Brussels, owing to his physique as well as his Belgian origins. His Hollywood career began with Bloodsport (1988) made on a shoestring budget but became a hit after word-of-mouth spread among martial arts enthusiasts. He followed that with Kickboxer (1989) which was even more successful and another worthy showcase of his martial arts agility, especially his high kicks.

Double Impact (1991) saw Van Damme playing dual roles and despite negative reviews became the modest success Kickboxer was. Ditto for Universal Soldier (1992), which he co-starred with Dolph Lundgren- the movie became his highest grossing movie at that time, and was followed by two sequels, Universal Soldier: The Return (1999) and Universal Soldier: Regeneration (2010).

John Woo's Hard Target (1993) was another modest hit but Van Damme was to have the biggest hit of his career in the following year with Timecop (1994). He began to flounder at the box-office with Street Fighter (1995) and subsequent big-screen releases like Sudden Death (1995), Maximum Risk (1996), The Quest (1996) and Double Team (1997) just lost more and more audiences.

When the first sequel to Universal Soldier tanked in 1999, it sealed his fate in the DTV territory and he continued to languish with these unmemorable action movies for close to ten years. He surprised critics and audiences alike with the independent crime comedy-drama JCVD (2008) playing himself and that film enjoyed a brief limited theatrical run to mark the end of his big-screen hiatus.

It was not enough to revive his career though and Van Damme has gone back to DTV films such as The Eagle Path (2010) and Weapon (2010). That said, he has received modest praise for Universal Soldier: Regeneration (2010) and another sequel Universal Soldier: The New Dimension due out next year has already been announced. His best shot at coming back to the big screen? Starring in Sly's inevitable The Expendables sequel.

Dolph Lundgren

Lundgren shot to stardom playing the Russian boxer Ivan Draco in Rocky IV (1985). Two years later, he landed his first lead role as He-Man in the live-action Masters of the Universe (1987) but that and his subsequent films- Red Scorpion (1989), The Punisher (1989) and Showdown in Little Tokyo (1991) didn't cut it.

Universal Soldier (1992) was his biggest hit at that time and subsequent action movies like Joshua Tree (1993), Men of War (1994) and Silent Trigger (1996) were largely forgettable. The Swedish actor has struggled ever since with DTV flicks, though those who have seen them will realise that they are at least respectable.

Lundgren returned to the Universal Soldier franchise this year with Regeneration (2010) and more significantly to the big screen with The Expendables. The interest generated from The Expendables might just earn him some big screen goodwill- the actor has announced his next project Skin Trade (2011) may co-star Steven Seagal and their collaboration could stimulate enough interest for the movie to be picked up for release in theatres. Fingers crossed!

Steven Seagal

The real-life aikido master's first film Above the Law (1998) made him an instant action star as audiences lapped up to see Steven Seagal parlay his aikido moves to graceful but devastating effect onscreen. A string of hits soon followed- Hard to Kill (1990), Marked for Death (1990) and Out for Justice (1991)- before his career franchise came in Under Siege (1992), a bona fide hit at the time.

Unfortunately, he took a misstep by venturing into directing with On Deadly Ground (1994) before returning to Under Siege with the sequel Under Siege 2: Dark Territory (1995) which became a minor disappointment. The Glimmer Man (1996), Fire Down Below (1997) and The Patriot (1998) followed as a string of box-office disappointments before producer Joel Silver delivered something of a career revival with the urban action drama Exit Wounds (2001).

But Seagal made a quick exit out of the big screen following the failure of Half Past Dead (2002) and has planted his feet firmly in DTV territory ever since. His output in DTV land however is somewhat amazing- he makes four films a year released straight to video- but each of those movies were expectedly subpar.

Still Seagal's loyal fans continued to support him, and his following allowed him to produce (through his Steamroller label) and write some of his material including Into the Sun (2005), Kill Switch (2008), The Keeper (2009) and his latest Born to Raise Hell (2010). Seagal makes his big screen return this year in Robert Rodriguez's ultra-violent Grindhouse offshoot Machete (2010) but future big screen efforts are murky. The Expendables 2 perhaps?

If You Missed Part One Of Expendable?

Rambo: First Blood (1982)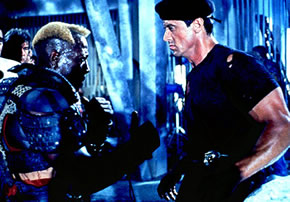 Demolition Man (1994)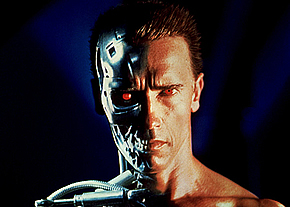 The Terminator (1984)



True Lies (1994)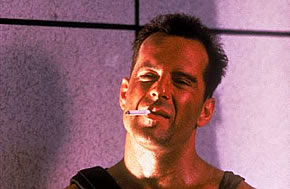 Die Hard (1988)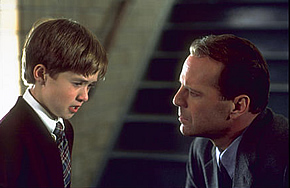 The Sixth Sense (1999)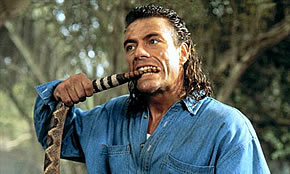 Hard Target (1993)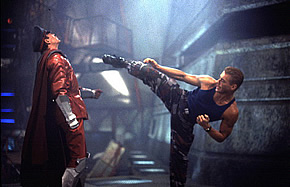 Street Fighter (1994)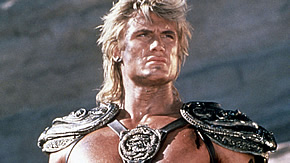 He-Man: Master Of The Universe (1987)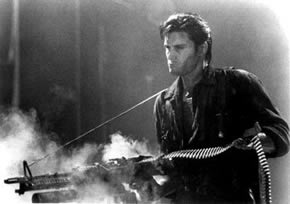 The Punisher (1989)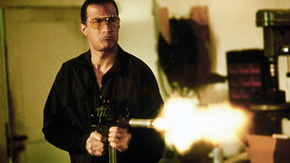 Marked For Death (1990)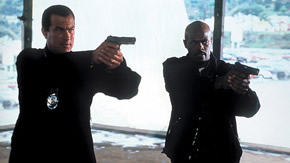 Glimmer Man (1996)