2001 - NOW

The Italian Job (2003)

Director F Gary Gray's remake of the 1969 British caper "The Italian Job" was a critical and commercial success that became the biggest hit for its studio Paramount in that year. Notwithstanding the Mini Coopers on display, it was the fresh chemistry of Mark Wahlberg and Charlie Theron as the heist leader and safecracker respectively that proved to be a winning formula in this remake. Who needs sex or skin to sell when you can survive on the charisma of the stars and well-choreographed action sequences?

The Island (2005)

Michael Bay's brainy sci-fi movie, "The Island" about human clones earned only a fraction of its total budget at the domestic box-office though it was his second-best reviewed movie after "The Rock". That's really a pity- considering how Scottish star Ewan McGregor and the ever-gorgeous Scarlett Johansson make such a sexy couple on the run from the authorities in futuristic Los Angeles. Coming from Bay, you can be sure that MacGregor and Johansson will look as pretty as they can be in this otherwise too long for comfort sci-fi piece.

Mr. And Mrs Smith (2005)

If there was an award for the best and most memorable couple on the run, it would surely go to Brad Pitt and Angelina Jolie in the Doug Liman action/comedy "Mr. And Mrs Smith". Rumors had Pitt falling madly in love with Jolie during shooting and these were confirmed when Pitt, then married to Jennifer Aniston, left her for Jolie shortly after the movie was released. The rest they say is history. Despite suffering from weak writing and overblown action pieces, the star power of Pitt and Jolie fuelled the movie to the tune of $478 million in worldwide box-office gross. We can't really argue with that can we?

Public Enemies (2009)

You probably wouldn't find a sexier bank robber than John Dillinger, especially when he's played by Johnny Depp. And the lucky one whom he fell in love with was Billie Frechette (Marion Cotillard) whom he woos by buying her a fur coat. True, they didn't spend much time on the run together; nevertheless, they were both trying to evade capture in their own ways- Frechette becoming a target for the FBI after they try to use her to get to Dillinger. Despite limited scenes together, Depp and Cotillard lit up the screen with their charisma and verve.

The Bounty Hunter (2010)

Since Brad Pitt had his bickering 'couple-on-the-run' movie, there's no reason why his ex-beau Jennifer Aniston shouldn't. Aniston paired with Gerard Butler to play ex-marital spouses on the run from corrupt cops guilty of a murder Aniston's reporter is investigating. Both stars are hot in their own right, but somehow they lacked the same onscreen chemistry between Pitt and Jolie- though their reel life romance did spill over to real life. Too much noisy bickering between Butler and Aniston made this Andy Tennant picture a modest hit at best.

Killers (2010)

Coming at a time when Katherine Heigl is fast cementing her reputation as the go-to girl to play the ditzy blonde in romantic comedy, "Killers" was a misstep whichever way you looked at it. Heigl had little chemistry, if any, with Ashton Kutcher and the movie was as illogical and unfunny as it could get. It didn't perform as badly as some box-office prognosticators thought it would during opening weekend, but given the poor word-of-mouth, don't expect this onscreen pairing to be remembered positively at all.

Knight And Day (2010)

Tom Cruise and Cameron Diaz- two of Hollywood's biggest stars in an action comedy that puts them in tourist-picturesque locations in Spain and Austria. What could go wrong? Well for one, box-office tracking so far has indicated that few audiences are interested to see it, making this potentially another one of Cruise's underperforming big-budget movies. What we've seen so far are only what the trailers are telling us- but we ain't convinced that this will match Mr and Mrs Smith anytime soon (also produced by Regency Enteprises and its highest grossing film to date).

Killers opens 3 June 2010

Knight And Day opens 24 June 2010

If you miss part one of "Cops, Guns, Fun And Couple On The Run"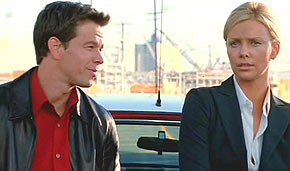 The Italian Job (2003)
Edward Zwick's Blood Diamond (2006)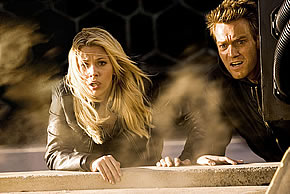 MartinT The Island (2005)0)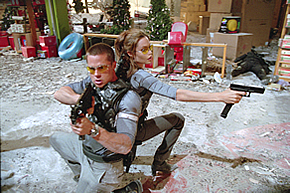 Mr And Mrs Smith (2005)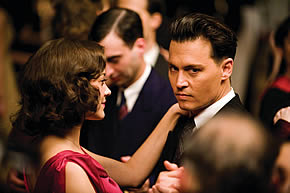 Public Enemies (2009)
Ridley Scott's Body of Lies (2007)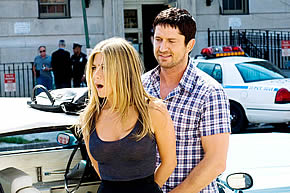 The Bounty Hunter (2010)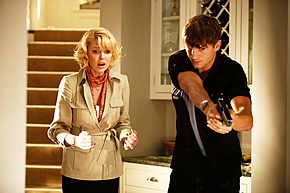 Killers (2010)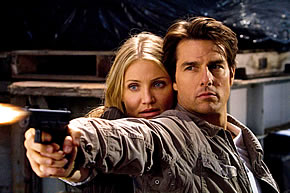 Knight And Day (2010)
Sam Mendes's Revolutionary Road (2008)


Martin Scorsese's Shutter Island (2009)


Christopher Nolan's Inception (2010)